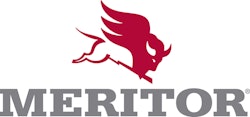 Meritor, Inc. and Pressure Systems International (PSI) announce that Maverick Transportation has spec'd the Meritor Tire Inflation System (MTIS) by PSI to be standard on all new trailers purchased in 2012.
Maverick chose MTIS by PSI as standard equipment after realizing the safety benefits and cost advantages associated with better tire wear and fuel economy. MTIS, the market leader in automatic tire inflation systems, keeps tires properly inflated which improves tire maintenance management, trailer up-time and bottom line Return on Investment (ROI).
"When tires are properly inflated at all times there are less 'tire gators' on the road and fewer roadside breakdowns," says Craig Frohock, general manager, North American Trailer, Meritor. "It's always rewarding when companies such as Maverick realize these benefits and safety aspects that MTIS brings to their fleets, drivers and the general public sharing the roads."
Dean Newell, certified director of safety and vice president of safety for Maverick, explains that with the U.S. Federal Motor Carrier Safety Administration's new Compliance, Safety and Accountability (CSA) initiative, MTIS is even more important as an additional specification to their trailers.
"We're serious about safety at Maverick, and always have been. With the CSA scoring and enforcement criteria, points assessed for under-inflated and flat tires can easily impact the safety score of any fleet operating in the U.S. If you can avoid those instances by having your tires properly inflated all the time, it eliminates that worry. That's why we spec the Meritor Tire Inflation System by PSI on our trailers," says Newell. He has served as Chairman of the American Trucking Association's (ATA) Safety Management Council and was the recipient of their Safety Director of the Year Award in 2010.
Today, Maverick operates more than 1,500 flatbed, glass and temperature controlled semi-trailers with the Meritor Tire Inflation System by PSI.
MTIS by PSI is a simple design that can be installed on virtually any type of trailer. The system adds life to tires, increases fuel efficiency and safety, maximizes recap potential, and keeps trailers on the road. It is an automatic system with constant air pressure available when needed. The patented ThermALERT option alerts drivers of excessive wheel end heat which helps avoid trailer fires or wheel end damage. As fleets have increasingly seen the benefits of the ThermALERT technology, MTIS with this option now accounts for 43% of PSI's production.
Meritor's complete portfolio of Trailer products includes axles, suspensions, MTIS by PSI and wheel ends. Each is backed by our industry-competitive warranty and more than 50 trained, experienced professionals providing sales, services and support across the United States and Canada. For after-the-sale support, the company's Aftermarket specialists, with backing from the key distribution centers in Florence, KY and Brampton, Ontario, are prepared to supply customers with service parts.