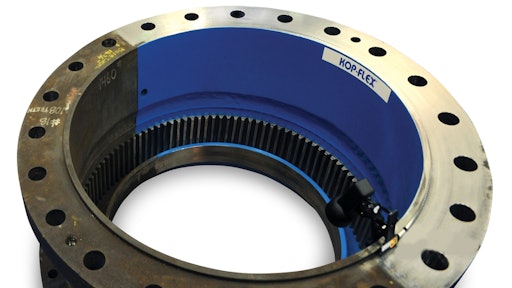 Power Transmission Solutions, a business unit of Emerson Industrial Automation, introduces a repair and maintenance program for KOP-FLEX couplings, gear spindles and universal joints that can cut replacement cost and turnaround time by half or more. Developed for production-critical applications in turbomachinery, rock crushers and off-road machinery, the custom program has already cut spindle maintenance cost per ton of rolled steel by half at one Midwest U.S. steel mill. The program includes repair and maintenance, as well as custom-tailored inventory management that ensures shipment of replacement heavy-duty couplings and gear spindles in 12 to 24 hours.
Proven to reduce unscheduled downtime, the inventory management program includes development of a usage profile and maintenance of safety-stock inventory at KOP-FLEX service centers in the U.S., Canada and Europe. KOP-FLEX bears the inventory carrying cost and monitors inventory usage and requirements. The program reduces customers' taxable asset inventory and ends needless expenditures on incorrect spare parts. It also reduces unscheduled downtime by optimizing a change-out schedule based on the customer's production needs. Under the program, KOP-FLEX recommends replacing worn components with new, so that used parts can be refurbished where possible and maintained for future repairs, reducing costs further.
The custom maintenance management programs are based on the RMR tracking history of spindles and couplings as they are returned for service. The history includes number of times a spindle has been returned for inspection/repair and its repair history. This history ensures that new maintenance management programs are tailored to deliver maximum product life at minimized cost. Customers covered under management programs also receive priority handling of repair quotes, failure analyses and reverse engineering of old components.