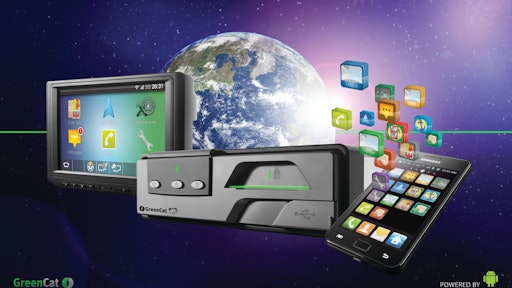 Groeneveld Group will be showcasing a number of products, including newly launched products, at BedrijfsautoRAI in Hall 2, stand number 100, right next to the main entrance. The stand covers more than 400 m², offering plenty of space for the products and services from Groeneveld Transport Efficiency and GreenCat. BedrijfsautoRAI is the Netherlands' leading sustainable transport exhibition, and will take place April 17 to 21.
GreenCat ATX Android on-board computer
GreenCat, the Groeneveld Group division which specializes in IT solutions for transport and logistics, will be presenting a world first at BedrijfsautoRAI with an entirely new generation of on-board computers with the Android operating system. The GreenCat ATX (Android Telematics Xchange), as the new on-board computer has been christened, is the first modular telematics solution on the market to feature a completely open platform. Users can install a wide variety of Android apps on it alongside the advanced GreenCat software, offering them the greatest possible flexibility both now and in the future.
One-stop shop
As well as the new GreenCat ATX, GreenCat will also be showing the TopIQ on-board computer, which offers a high level of user-friendliness and proven reliability.
Alongside the Telematics division, GreenCat's TMS division will be represented on Groeneveld Group's stand as well. Under the slogan 'IT for the moving world' GreenCat advises on, it supplies and implements complete integrated IT solutions for logistics services and transportation by road, rail and water. GreenCat provides complete IT systems, from the on-board computer in a truck or bus to fleet transport and supply chain management systems. This one-stop-shop aspect offers customers a number of important benefits, such as a fixed point of contact and no unforeseen expenses for interfaces between packages from different suppliers. GreenCat also ensures the synchronized deployment of software packages and modules, maintaining maximum functionality. GreenCat systems are developed on the basis of open platforms and global standards, which allows integration with on-board computers and TMS and planning systems from other suppliers.
New Greensight camera
BedrijfsautoRAI will see Groeneveld Transport Efficiency, supplier of automatic maintenance and active safety systems, introduce a CMOS color camera which has been developed in-house. When used with the Greensight high-resolution monitor - also produced in-house - the camera ensures a perfect image, even in bright light, at night or in poor weather conditions. The new Greensight camera is available with viewing angles of 104 or 116 degrees and with normal or reversed image, which means it can be used for a host of applications: as a front or side view camera on trucks and buses, or on the back of trucks, earthmovers and forklifts, for example.
CompAlube increasingly popular
Groeneveld Transport Efficiency will also be showing its complete range of automatic greasing systems, including the popular CompAlube, specially developed for modern trucks with a small number of greasing points. The system is extremely compact because the grease reservoir, pump, electronic control unit and dosers are combined into a single unit. This makes it extremely simple to fit the greasing system and ensures optimum reliability. The CompAlube can grease up to 19 separately dosed points and is thereby particularly suitable for lubricating fifth wheel couplings, tail-lifts and steering knuckles.
Oilmaster rapidly gaining popularity
The substantially lengthened servicing intervals and the introduction of expensive exhaust gas treatment systems mean that the Oilmaster from Groeneveld Transport Efficiency is also rapidly gaining in popularity, both in road transport and in the world of public transport and touring coaches. This advanced oil management system ensures that the engine oil is always at precisely the right level: not too low, which can result in expensive damage to the engine, but certainly not too high either, since that can lead to excessive oil consumption and damage to the exhaust gas treatment system. The Oilmaster also reduces the risk of the wrong type of engine oil being added.