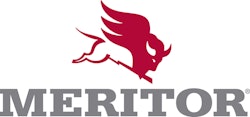 Meritor, Inc. and Pressure Systems International (PSI) announce the results of a study showing a 1.4% improvement in fuel economy using the Meritor Tire Inflation System by PSI (MTIS) at the Spring 2012 Fleet Technology Event in San Antonio.
The study was conducted by the Federal Motor Carrier Safety Administration's Office of Analysis, Research and Technology. Using two fleets, Gordon Food Service of Grand Rapids, MI, and Sheetz, Inc. of Altoona, PA, the agency tested the effects, costs and benefits, or influence on maintenance intervals as well as their impact on safety and performance of tire inflation systems and tire pressure monitoring systems.
"We are pleased to see the results of the study which clearly reiterate the importance of MTIS for our customers on the road and their bottom line," says Craig Frohock, general manager, Global Trailer, Meritor. In addition to better fuel economy, the fleets saw an increase in tire life, experienced fewer road calls and correct tire pressures were consistently displayed.
MTIS by PSI, known as a market leader in automatic tire inflation systems since 1993, keeps tires properly inflated. This improves tire maintenance management, increases trailer up-time and return on investment. MTIS by PSI is a simple design that can be installed on any type of trailer, including vans, liquid tanks, loggers, flat beds, chassis, livestock, platforms, drop frames, dumps, lowboys, doubles, dry bulks, reefers, auto transporters, heavy haulers and military.
The MTIS by PSI system adds life to tires, increases fuel efficiency, improves safety, maximizes recap potential, and keeps trailers on the road, ultimately delivering loads on time. It is a truly automatic system with constant air pressure available when needed. The patented rotary union is the only moving part in the entire system, significantly reducing maintenance, and the patented ThermALERT option notifies drivers of excessive wheel end heat. MTIS with ThermALERT accounts for over half of PSI's production. 
MTIS by PSI is compatible with the Meritor WABCO PLC Display for tractor-trailer communications as well as other telematic devices. It is a proven component in the Meritor family of trailer systems. Meritor supplies industry-leading axle, suspension, brake, automatic tire inflation and wheel end components to original equipment trailer manufacturers and to the replacement market via distribution outlets located throughout North America. After-sales service support and technical assistance are always available from knowledgeable Meritor representatives. Trailer systems and components are backed by Meritor's industry-competitive warranty, global services and support.