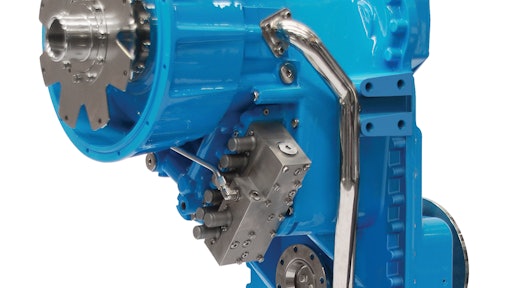 Dana Holding Corporation has introduced two technologically advanced drivetrain systems for front end loaders and other construction equipment at INTERMAT 2012 in Paris, the world's largest tradeshow for the construction industry this year.
Dana is presenting the Dana Rexroth R3 hydromechanical variable transmission (HVT), the first powersplit system from the 50-50 joint venture between Dana and Bosch Rexroth AG. Dana is also debuting its Spicer 318 hydrostatic continuously variable transmission (HCVT).
In addition, the company is showcasing the Spicer TZL16, the first in a line of powershift transmissions for front end loaders to be produced at Dana's assembly facility in Wuxi, Jiangsu Province, China. Dana began producing the Spicer TZL16 transmission in February, and additional transmissions in the Spicer TZL Series will be available later this year.
"With fuel prices on the rise worldwide, forward-thinking OEMs are pursuing vehicle innovations that can reduce fuel consumption without sacrificing performance advantages," says Aziz Aghili, president of Dana Off-Highway Driveline Technologies. "The new transmission technologies we are presenting at INTERMAT demonstrate our wide portfolio of complete drivetrain solutions and the value we provide to construction OEMs through our ongoing commitment to research and development."
The first in a series of HVTs, the R3 is currently undergoing field testing in numerous OEM prototype vehicles and is targeting fuel savings in the drivetrain of up to 20% when compared with the same vehicle outfitted with conventional torque converter transmissions. HVTs are designed for front end loaders, graders, forestry skidders, and other off-highway applications requiring up to 265 kW (360 horsepower).
The new Spicer 318 hydrostatic continuously variable transmission (HCVT) for compact front end loaders and medium-sized telescopic boom handlers features a unique two-motor design that provides 20% fuel savings during duty cycles that require high travel speeds, as well as increased tractive effort at low travel speeds.
Dana is also promoting the company's new aftermarket distribution center in Gyor, Hungary, which was established earlier this year to more efficiently support customers in Europe. Strategically located near supply chains to customers and end users, the Gyor facility ships and receives replacement parts supported by an industry-leading enterprise resource planning (ERP) system and the upgraded online ordering system at DanaMATE.com.
Dana is located in Stand No. 5b J 042 at the Paris Nord Villepinte exhibition center.