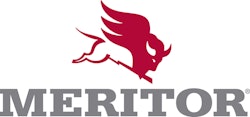 Meritor WABCO, a leader in integrated safety systems and efficiency components for the North American commercial vehicle industry, announced that its Electronically Controlled Air Suspension (ECAS) will be available in September 2012 to the North American market. More than 3 million WABCO ECAS systems have been sold worldwide and Meritor WABCO is adapting the product to meet the growing interest in North America for the tractor, motor coach and bus markets.
ECAS is designed to improve a vehicle's air suspension control system by electronically maintaining a set ride height between the axle and chassis as road and vehicle characteristics change. The pressure control of the air springs is only adjusted when there is a change in the load, so normal axle vibration during driving does not cause height adjustment or consume air. Reduced air consumption decreases the compressor duty cycle, resulting in improved fuel economy.
ECAS offers automatic load transfer, significantly reducing drive axle wheel spin and traction control events during periods of aggressive acceleration. This feature addresses lower tractive effort of 6x2 vehicles versus 6x4, providing considerable improvement in traction on low friction surfaces to improve performance.
6x2 ECAS features include:
Intelligent Load Monitoring that enables efficient transition to 6x2 drive configurations improves ATC event traction and reduces drivetrain damage due to over spin conditions.
Intelligent Level Control to provide optimum ride height to reduce driveline vibration and wear, lower vehicle profile for improved aerodynamics, and reduce air consumption for increased fuel economy.
Improved lifting capabilities to help in instances where the trailer is challenged on certain road grades.
"This is a highly differentiated approach to 6x2 applications, which provides several cost benefits to the fleet owner at the point of purchase and over the life of the vehicle," says Jon Morrison, president and general manager, Meritor WABCO. "The ECAS system will not only improve 6x2 traction and reduce fuel consumption, but will also decrease axle wear and tear requiring less maintenance in addition to several safety benefits."