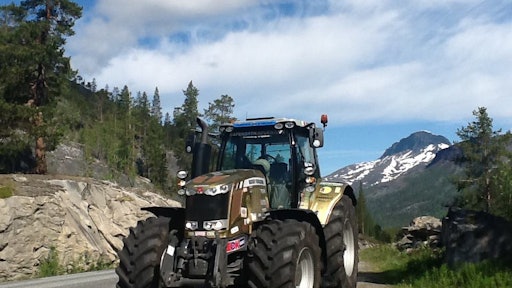 Leading manufacturer of agricultural complete wheel solutions, Trelleborg, has supported charity initiative "The Cape North Adventure," which saw a Massey Ferguson tractor trek across Europe to raise funds for an agricultural school in Chad.
The Cape North Adventure was sponsored by Massey Ferguson and saw its gold MF 7624 tractor kitted out with Trelleborg's high performance TM800 tires. The donation of the Trelleborg tires ensured that the tractor could travel an incredible 8,000 miles through 17 European countries, in less than two months.
"We have a strong partnership with Massey Ferguson and work together on everything from product development to marketing," says Stefano Bettinelli, OE Director, Trelleborg Wheel Systems.
"As such, we were keen to show our support and get our tires involved with this worthwhile project which is raising funds for a fantastic cause and also promoting professional farming in emerging markets and weaker economies across Europe."
The Massey Ferguson 7624 Tractor, awarded 'Golden Tractor' for its design in 2012 by the Tractor of the Year jury, was fitted with Trelleborg tires to start its journey across Europe. The expedition proved challenging, with half the journey to Cape North taking place in severe and demanding environments at high speed and torque.
"Throughout the tough expedition our tires demonstrated superior performance, providing excellent wear performance and fuel consumption. Furthermore, they helped to improve the safety and comfort of the tractor drivers, which was a crucial element considering the length and terrain of the journey," concludes Bettinelli.
For more information about Massey Ferguson's Cape North Adventure, visit www.capenorthadventure.com.
Companies in this article