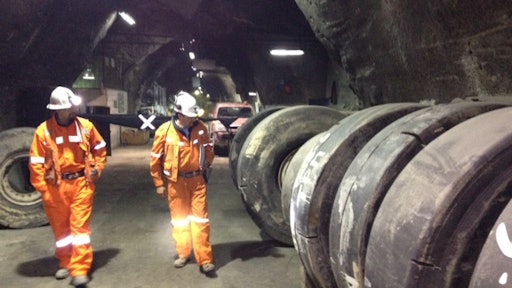 Pathway Polymers, a pioneer and industry leader in tire flatproofing solutions, recently signed an agreement with NeuMaq in Chile to provide TyrFil to El Teniente, the world's largest underground copper mining facility. The El Teniente mine is currently operated by Codelco, a state-owned copper mining company, along with Soletanche- Bachy, a geotechnical and civil engineering contractor.
According to Johan Gacitua of NeuMaq, Pathway Polymers played a key role in this contract award. He states, "We are very excited about new opportunities ahead, and we expect to grow our tire fill business with Pathway Polymers."
"Pathway Polymers continues to expand its global footprint," says Mike Arnold, Executive Vice President of Sales and Marketing at Pathway. "We're proud to be involved with such an important project."
As a key supplier to major mining, construction, rental and OEM customers, Pathway Polymers is the preferred tire fill provider for flatproofing solutions in the U.S. and international markets. Pathway Polymers will be exhibiting at MINExpo International at the Las Vegas Convention Center September 24 to 26, 2012. The TyrFil provider will be located in booth #9000.