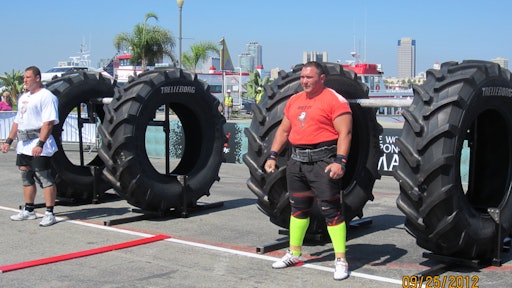 Trelleborg tires supported The World's Strongest Man contest in Long Beach, CA, U.S. with four of its TM6 tires used during the "Super Yoke" event.
Tuesday September 25, was Trelleborg's day at the World's Strongest Man competition. The event was staged in front of the Queen Mary ship where Trelleborg TM6 tires were used in the "Super Yoke" event. Two competitors at a time carried two 520/85R38 TM6 tires on a yoke down a 30 yard track. The combined weight carried by each competitor was 1,000 lbs. Ten  athletes raced against the clock, with the winner of the event having the fastest time.  
"These strong men are true athletes. They demonstrated tremendous strength and focus in lifting the tires and yoke and carrying them down the 30 yard track," comments Chris Neidert, Operations Manager of Trelleborg North America. "We think it's the same type of strength and focus that make Trelleborg a leader in the agricultural industry. We wish to thank the people at IMG for giving us this unique opportunity to increase Trelleborg's brand awareness in North America."  
To see who the winner of the "Super Yoke" event is, watch the World's Strongest Man which will be aired between Christmas and the New Year in the U.S. on ESPN.