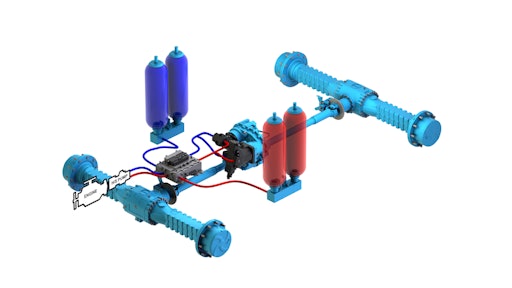 Dana Holding Corporation introduces Spicer PowerBoost, a new line of integrated hydraulic-hybrid powertrain concepts for the off-highway market that will be introduced at bauma 2013.
Deployed through series or parallel hybrid configurations that fit into existing vehicle designs with minimal adaptation, Spicer PowerBoost supplements all types of transmission architectures.
Spicer PowerBoost captures kinetic energy otherwise wasted throughout the drivetrain and working hydraulics, and then uses this recuperated energy to help power the vehicle, which can reduce fuel consumption by 20 to 40% compared to conventional drivetrain concepts, depending on vocational application and duty cycle. Spicer PowerBoost can also reduce total owning and operating costs by increasing productivity, reducing maintenance, and allowing for the use of a downsized engine.
Functional prototypes demonstrating the performance of the system will be available for field testing by OEMs in the second quarter of 2013.
"Dana has pioneered powertrain innovations for more than a century, and Spicer PowerBoost exemplifies an ongoing commitment to research and development that leverages our extensive systems knowledge and increases value to both our OEM customers and end users," says Aziz Aghili, President of Dana Off-Highway Driveline Technologies. "In an era when equipment manufacturers are finding it difficult to identify incremental gains in efficiency, Spicer PowerBoost offers a tremendous leap forward in productivity and reduced costs that easily fits into existing design envelopes."
Spicer PowerBoost uses an advanced energy-management system to evaluate the levels of power needed in the entire vehicle system, predict operating demands, and determine the most efficient means of operation. Hydrostatic energy is captured in an accumulator from the powertrain during low-power operation of the engine and recuperated from braking and working.
When additional power is required, such as accelerating from a full stop, lifting a load, or driving into the pile, the advanced energy-management system uses the stored energy in the accumulator to provide an additional source of power for improving performance, increasing productivity, and reducing fuel consumption.
The Spicer PowerBoost system can also be configured to minimize idling by shutting off the diesel engine and accessing power captured in the accumulator for vehicle operations that consume low amounts of energy, such as inching, light working conditions and low travel speeds.
Spicer PowerBoost solutions are ideal for applications with frequent, intense bursts of acceleration, deceleration, lifting and lowering during cyclic maneuvering that support the recuperation of working and braking energy. Construction equipment, material-handling machines and on-highway vocational vehicles are the initial targets for Spicer Powerboost.
Since Spicer PowerBoost provides the additional power needed for energy- consuming activities such as driving into a pile or lifting a load, it enables machine manufacturers to reduce the engine size for power outputs from 55 to 250 kW (74 to 335 hp) across a wide range of vehicle applications. This can prove especially beneficial for applications that currently require an engine at or slightly above the US EPA's Tier 4 or Euro 5/6 emissions threshold of 56 kW (75 hp), as the system allows manufacturers to select a smaller engine that does not require exhaust after treatment systems that are costly, consume added space, and increase the operating temperature of the powertrain system.
Spicer PowerBoost also helps improve productivity by shortening the length of time to complete a Y cycle, reducing the number of fuel stops and extending the period for brake maintenance.
The development of Spicer PowerBoost is the result of a three-year program at Dana's advanced technology centers in Belgium, Italy and the U.S. Engineers have conducted extensive simulations and tests while equipping a demonstration vehicle with the system to determine feasibility, develop advanced features and quantify benefits.
Spicer PowerBoost will be featured as part of a compact five- to eight-tonne (5.5- to 9-ton) front-end loader drivetrain system on the Dana stand at bauma 2013, located at hall A4, stand 314.