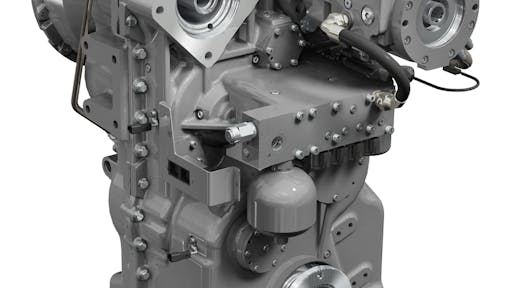 Dana Rexroth Transmission Systems has unveiled the R2 hydromechanical variable transmission (HVT), the latest powersplit system resulting from the 50-50 joint venture between Dana and Bosch Rexroth AG.
The R2 is a modular platform that delivers a full suite of configuration options and software controls, such as direct or remote mounting, flexibility in shift control and drive strategy parameters, and the deployment of up to three PTOs.
Designed to maximize efficiency and reduce overall vehicle ownership and operating costs, the R2 is ideal for front-end loaders, motor graders, industrial lift trucks, reach stackers, forestry skidders and other off-highway applications requiring 135 to 195 kW (180 to 260 hp) of engine output power.
Initial tests on front-end loaders with Dana Rexroth HVT powersplit systems demonstrate fuel savings in the drivetrain of up to 25% when compared with the same vehicle outfitted with a conventional torque converter transmission.
"The R2 is a truly innovative transmission platform that combines Dana's and  Bosch Rexroth's deep knowledge of powertrains," says Jeroen Decleer, Managing Director of Dana Rexroth Transmission Systems. "The R2 is unique in its ability to integrate hydrostatic, mechanical and control systems through a modular approach that can accommodate the application requirements and customer preferences demanded by the off-highway market."
HVTs from Dana Rexroth improve productivity by enabling sensitive, precise vehicle positioning and stepless drive with no interrupted acceleration. They occupy the same space within the design envelope as conventional torque converter transmissions while allowing for engine downsizing.
The HVT optimizes the operating point of the diesel engine by decoupling engine speed from drive speed, and maintenance costs are reduced by utilizing hydrostatic braking and wear-free directional reversals.
The HVT system helps reduce complexity for equipment manufacturers, since the entire system of gears and hydrostatics is managed by an advanced electronic control unit (ECU) and optimized for efficiency by a single supplier.
The R2 extends the Dana Rexroth HVT portfolio toward smaller applications and complements the R3 Series designed for machines up to 270 kW (360 hp) that was announced at Intermat last year.
The Dana Rexroth HVT R2 will be exhibited at bauma 2013 by Dana in hall A4, stand 314.
Companies in this article