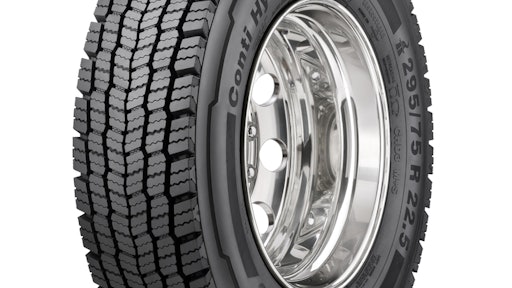 Continental Tire the Americas LLC's Commercial Vehicle Tire business unit (Continental) announces that its hybrid application drive tire for commercial trucks, the Conti Hybrid HD3, is verified by the U.S. EPA's SmartWay Transport Partnership as a low rolling resistance drive tire for Class 8, line-haul tractor trailers.
EPA has determined that certain tire models can reduce NOx emissions and fuel use by 3% or more, relative to the best selling new tires for line haul class 8 tractor trailers, according to the SmartWay Transport Partnership website. This tire is now the 20th in a line of Continental new and retreaded truck tire products that are currently listed as verified by SmartWay.
Conti Hybrid HD3 is a third-generation long-haul highway drive tire, named because it allows drivers to operate in the combined highway and regional application with an excellent combination of long mileage, traction and fuel saving characteristics. With advanced tread cap compounding, a self-stabilizing rib-block pattern, and minimized tread deformation from a stiff shoulder, drivers can expect the Conti Hybrid HD3 to have more than 10% improvement in rolling resistance against Continental's HDR2 and HDL2 DL.
The tire is available in sizes 295/75R22.5, 11R22.5 and 11R24.5. Conti Hybrid HD3 will be available as a ContiTread retread product in late 2013, and will also be submitted to SmartWay for verification under the retread technologies program.