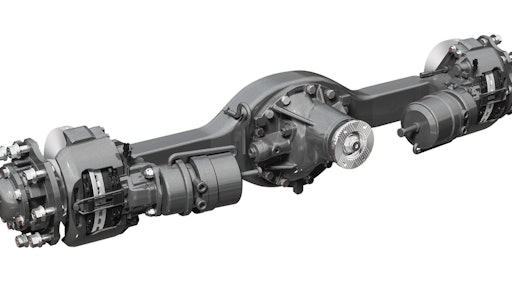 Dana Holding Corporation announces that it has been named the standard and exclusive supplier of steer axles, drive axles and driveshafts on the new International TerraStar 4x4 medium-duty truck. Navistar recently began customer deliveries of the all-wheel-drive vehicles.
"Not only do Spicer axle and driveshaft technologies offer best-in-class performance and efficiency, but they also offer the rugged durability that is required in this line of hardworking trucks," says Pat D'Eramo, President of Dana Commercial Vehicle Driveline Technologies.
The TerraStar features Dana's new Spicer Model 273 front drive steer axle, which delivers an effective turn angle of 42 degrees, a GAWR of 8,000 lbs., and popular axle ratios.
The Spicer S110 single reduction, single rear drive axle on the TerraStar has a variety of patented and exclusive features for longer life, improved reliability, excellent durability, and quieter operation. The axle has a GAWR rating of 14,000 lbs. and a maximum GCWR highway rating of 35,000 lbs.
Driveshafts are a mix of Spicer Life Series models. SPL 55 and SPL 100 are permanently lubricated with sealed splines to reduce maintenance costs and precision balanced for reduced noise, vibration and harshness.
Companies in this article