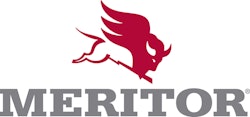 Meritor Inc. announces that Ingersoll Axle (IMT) has selected the Meritor Tire Inflation System (MTIS by P.S.I.) as its preferred Automatic Tire Inflation System (ATIS) on its line of trailer axles for the commercial trailer market.
Pressure Systems International (P.S.I.) designs automatic tire inflation systems, and markets and sells its products in North America through Meritor as MTIS by P.S.I.?
Fleet and OEM customers can now easily specify the preparation of IMT trailer axles at various levels, such as bare or dressed axle, to accommodate the needs of its customers. This includes the availability of MTIS by P.S.I. on straight and steerable axles.
"This was an easy choice for us to make," says Steve McManus, Director of Business Development, IMT. "MTIS by P.S.I. is the global leader in automatic tire systems with a proven record of delivering value to our mutual customers. It's the easiest system to install and maintain ? and has the widest range of applications, including our steerable axles."
Today, more than 40% of all new trailers built in North America include some type of automatic tire inflation system, the majority being equipped with MTIS by P.S.I. Tires continue to be a primary focus of fleets and equipment owners to mitigate rising operating costs. MTIS by P.S.I. offers a financial return of less than a year in most applications.
The MTIS by P.S.I. is a simple design that can be installed as new or a field retrofit on any type of trailer including van, liquid tank, logger, flat bed, chassis, livestock, platform, drop frame, dump, deep drop, doubles, dry bulk, reefer, auto transporter and military. Proper inflation boosts tire life, increases fuel efficiency and safety, maximizes recap potential and keeps trailers on the road. MTIS by P.S.I. is an automatic system that delivers constant air pressure when needed, so interaction is not required by the driver or maintenance manager. The patented ThermALERT option warns drivers of excessive wheel end heat which helps avoid trailer fires or wheel end damage. As fleets have increasingly seen the early warning benefits of the ThermALERT technology, MTIS with this option now accounts for more than 50% of P.S.I.'s production.
Martha Remski, Director of Meritor's Trailer Products comments, "We're honored to be selected by IMT. They're a long-established company with a rich heritage of serving our market."
Companies in this article