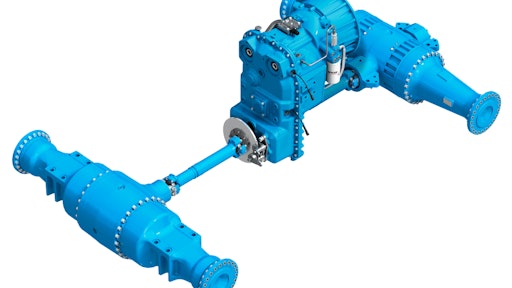 Dana Holding Corporation has announced new drivetrain options for mid-sized front-end loaders that illustrate the company's ability to meet a full range of market needs from value-driven solutions to premium configurations with advanced technologies.
At CONEXPO/CON-AGG, Dana showcased a 23-ton (21-tonne) drivetrain system for front-end loaders with the new Spicer TE18 powershift transmission side by side with the latest hydromechanical variable transmission (HVT) from Dana Rexroth Transmission Systems, the 50-50 joint venture between Dana Holding Corporation and Bosch Rexroth AG. Dana also presented recently the upgraded Spicer 37R and Spicer 43R axles and a Spicer Wing Series driveshaft.
This system flexibility allows machine designers to configure a series of vehicles in a single power range that offer a variety of basic to advanced features while requiring a minimum of alterations to the design envelope.
"Global manufacturers of construction equipment are looking for a Tier 1 drivetrain supplier that can deliver solutions easily adapted to market preferences and local needs," says Aziz Aghili, President of Dana Off-Highway Driveline Technologies. "With 15 global technical centers and manufacturing operations around the world, vehicle expertise, and strategically deployed resources Dana is perfectly positioned to serve as a single source for a full spectrum of drivetrain solutions."
Spicer TE18 Transmission
The new Spicer TE18 powershift transmission is specially engineered to supply front-end loaders with higher input power capability, reduced maintenance, and smoother, quieter operation. Rated from 200 to 260 hp (150 to 195 kW), the TE18 is a four-speed transmission platform that uses internal components from Dana's field-proven line of powershift transmissions already available for the off-highway market. It provides superior shift quality through high energy-capacity forward and reverse clutches, adaptive clutch modulation, and helical gears.
Dana will offer the Spicer TE18 transmission with an optional technology package that includes a five-speed transmission with lock up, enabling direct drive even at low speeds to reduce fuel consumption by up to 10%.
The Spicer TE18 transmission will be managed by Dana's new series of lead-free electronic transmission controls, which offer wider systems integration through upgraded software and enhanced hardware capacity, flexibility and expandability. These improvements will enable Spicer transmissions to offer the latest features such as eco-drive, power drive, and next-generation overlap control.
The Spicer TZL18 powershift transmission – a basic version of the TE18 – is available now for premium ZL50 front-end loaders produced in China and other emerging markets.
Prototypes of the TE18 transmission will be available for customer field tests the second half of 2014, with production expected to begin in early 2015.
Dana Rexroth's R2 HVT
The R2 hydromechanical variable transmission (HVT) from Dana Rexroth uses a modular platform to deliver a full suite of configuration options and software controls, such as direct or remote mounting, flexibility in shift control and drive strategy parameters, and the deployment of up to three PTOs.
Designed to maximize efficiency and reduce overall vehicle ownership and operating costs, the R2 HVT is ideal for front-end loaders, motor graders, industrial lift trucks, reach stackers, forestry skidders, and other off-highway applications requiring 180 to 260 hp (135 to 195 kW) of engine output power.
Current bench and field tests on front end loaders with Dana Rexroth's HVT powersplit systems demonstrate fuel savings in the drivetrain of up to 25% when compared with the same vehicle outfitted with a conventional torque converter transmission.
With extensive field testing complete, the R2 HVT is undergoing bench testing in the final validation stage, and it will be available at the end of this year.
Spicer 37R, 43R Axles
Dana has re-engineered and upgraded the Spicer 37R and Spicer 43R axles to offer the same performance as previous versions while reducing axle weight by up to 25%. Spicer 37R and 43R axles have load capacities from 20 to 50 tons and feature a modular design with a differential carrier as well as a planetary and service-free brakes positioned inbound.
These axles are available with no-spin, limited-slip, Posi-Torq and Hydraloc differentials, and they can accommodate a wide range of vehicle weights, tracks, tires, and chain combinations.
Dana has begun production of the new Spicer 37R axle at its facility in Wuxi, China, with the start of production on Spicer 43R axles to follow in early 2015.
Spicer Wing Series Driveshafts
Designed for longer life, minimal maintenance, and lower operating cost, Spicer wing-bearing style driveshafts are available with torque capacities ranging from 1,500 to more than 120,000 Nm, along with extended to permanently lubricated options.