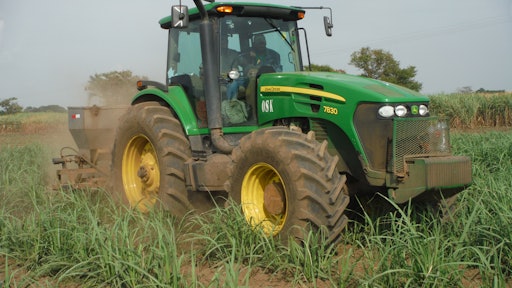 In April, Trelleborg presented in Chinandega, Nicaragua, its radial range of premium agricultural tires to several important producers in Central America. The event, organized by Emagro, Trelleborg's distributor for Nicaragua, Panama, Costa Rica and Guatemala, received considerable interest and positive feedback.
Andrea Masella, Marketing Manager for Trelleborg Agricultural tires in North America, says, "It is just one year since we began promoting Trelleborg agricultural tires in Central America and we are proud to already have among our customers some of the most important producers in the sugar cane, peanuts and rice industries. This has been possible due to our distributor's in depth knowledge of these markets and their commitment to bring modern technology to the end users."
"Emargo and Trelleborg share the same vision and we want our Central American customers to benefit from our innovative technology and services. Trelleborg aims to further increase its presence in Central America, for agricultural tires specifically, to help promoting sustainable farming through the development of radialization in these regions and to offer support to top OEM customers," comments Jeff Jankowski, Sales Director for Trelleborg Agricultural tires in North America.
Emagro will also distribute Trelleborg's second brand of radial tires Maximo, available in standard and the 70 Series.