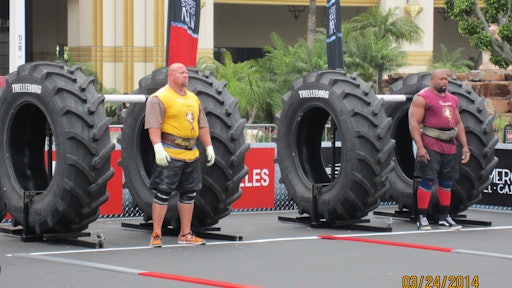 In 2014, Trelleborg TM600s were once again the tire of choice for the World's Strongest Man competition. The event was staged at the Commerce Casino in Los Angeles, CA. 
Trelleborg TM600s were used in the "Super Yoke" event. Two competitors at a time attempted to carry two 520/85R38 TM600 tires and the yoke down a 30 yard (approximately 25 meters) track. Ten athletes raced against the clock with the winner of the event having the fastest time. The combined weight carried by each competitor was 1,000 lbs. (453 kg). "As the athletes are committed to excellence performance, so is Trelleborg. From development, to manufacturing, to delivery Trelleborg strives to go beyond the standards, just like the World's Strongest Man," says Chris Neidert, Trelleborg Logistics Manager for North America.
To see who won the competition, tune into the CBS Sports Network in June. The current schedule shows the first competition will be aired on June 4 and continuing through June 15.