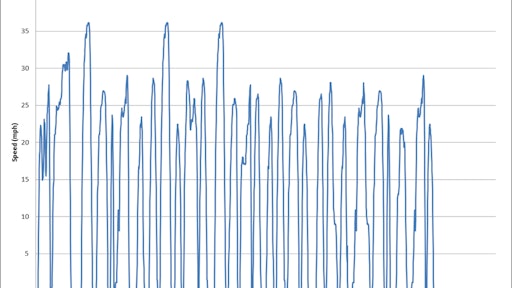 Lightning Hybrids, maker of hydraulic hybrid systems for medium- and heavy-duty trucks and buses, released initial results from extensive emissions testing conducted by an independent testing facility in Colorado. The results show decreases in NOx up to 90% and decreases in CO2 emissions of up to 16% over the same baseline vehicle, disproving popular assumptions about hydraulic hybrids.
Lightning Hybrids met or exceeded all California Air Resources Board (CARB) Heavy-Duty hybrid emissions certification standards using published HD HEV Certification Test Procedures.
"These results prove that Lightning Hybrids' system is the right technology to give fleets a fast ROI and the right to brag about making a positive impact on the environment," states Tim Reeser, Lightning Hybrids President and Co-Founder. "We are pleased with these results and will show further significant improvements in the next year as we continue to make our system even cleaner, more efficient and less expensive."
The testing was completed at the SGS Environmental Testing Corporation dynamometer facility in Aurora, CO. SGS provides inspection, verification and testing services around the world, and the Aurora facility is used by large vehicle makers to validate drive cycles and provide high altitude testing for a variety of major vehicle manufacturers.
Lightning Hybrids tested two vehicles: A 2013 Ford E450 6.8 Liter V10 and a 2010 GMC 3500 Savana Cutaway 6.0 Liter V8. Both vehicles were first tested without Lightning's hydraulic hybrid system to provide a baseline with which to compare the results with the hybrid system installed.
The vehicles were tested on the SGS dynamometer using SGS drivers and equipment. Four drive cycles were tested, and one specific to a Lightning Hybrids customer. Several popular drive cycles tested include:
Orange County Bus: Developed by West Virginia University to replicate suburban transit bus drive cycles, one of two drive cycles used by CARB for hybrid certification
Heavy Duty Urban Dynamometer Driving Schedule (UDDS): "City" drive cycle for heavy-duty vehicles, second of two CARB certification drive cycles
Braunschweig City Driving Cycle: EU legislative cycle for bus approval
Artemis: Developed by 15 EU nations tasked with emissions study for cars
LH Customer Transit Route: Real world vocational drive cycle, providing Lightning Hybrids the ability to compare test data with actual on-road data
Reeser continues, "Ninety percent NOx reduction on a gasoline engine is unprecedented for medium-duty hybrids, but think of the benefits when fleets replace their diesel trucks or buses with gasoline or alt fuel vehicles with our hybrid technology—they will be taking a very dirty vehicle off the road and replacing it with a vehicle that is 457% cleaner with more torque than the diesel, and an on-board brake retarder included. So fleets are getting more power and lower fuel costs and communities are getting cleaner air which means a better quality of living and lower medical costs."
Lightning Hybrids currently has vehicles in 10 fleets in the U.S. and Canada and has orders for vehicles in fleets in the U.S., India, Mexico and England that will be delivered over the next three months. These vehicles include medium-duty delivery trucks and shuttle buses and heavy-duty transit and school buses on a variety of platforms including Ford, Freightliner, Ashok Leyland, DAF and Mercedes-Benz.
Lightning Hybrids' system functions like other hybrids that add a secondary power source to an existing engine. Hydraulic pumps/motors and an accumulator (power storage unit) are added to gasoline, diesel, propane or CNG engines to store braking energy and use the captured energy to accelerate the vehicle, significantly saving fuel and brakes and cutting emissions.
There are a variety of federal and state incentives and grants for clean vehicle technologies like Lightning Hybrids' product. Just this week Massachusetts released incentive funding for vehicles and specifically included funding for Lightning Hybrids' hydraulic system, and Colorado just passed a clean truck initiative that also specifically includes hydraulic hybrids in the new tax incentives for clean and alternative fuel vehicles.