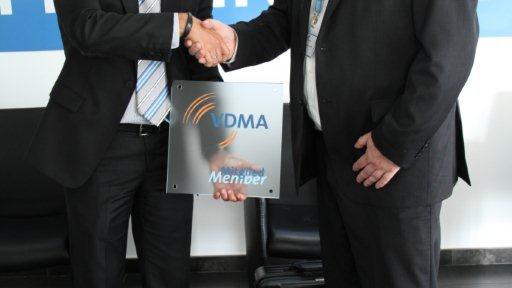 Comer Industries has officially become part of the German Engineering Federation VDMA. Representatives of both companies met at Comer Industries' plant in Matera, Italy, where Dirk Decker, Deputy Managing Director of VDMA Power Transmission, personally handed to Comer Industries' Managing Director Matteo Storchi the plate of the association.
The presentation took place during the visit to Comer Industries' plant in Matera of the delegation of the Eurotrans (European Committee of Associations of Manufacturers of Gears and Transmissions Parts) annual meeting, of which VDMA is a member. Eurotrans' meeting was held in Bari last June 26 to 27, as an annual gathering of European associations, the American Gear Manufacturers Association AGMA and the companies they represent. The event was organized by Assiot, the Italian Association of Gears and Transmission Elements Manufacturers. Agenda included visits to associated companies in the industry.
"In line with the corporate mission to be preferred supplier of the leading manufacturers of agricultural machinery, construction equipment, industrial and renewable energy applications worldwide, we have decided to join VDMA Power Transmission to sustain our company's success. This is a further step to strengthen our position in the growing market of Germany," says Comer's Storchi.
The VDMA has key functions for networking in Germany, where companies share experiences, collaborate and develop complex topics for the industry. Within the organization customers, suppliers and competitors can discuss fundamental issues and develop solutions.
"Comer Industries will not be the only one to benefit from the VDMA Association. Also our customers and potential clients can reap the advantages of this membership, as the VDMA will contribute to the ongoing development of Comer Industries' products," continues Storchi.
As part of Comer Industries' growth plans in Germany, the company recently opened a new sales office in Schermbeck (North Rhine – Westphalia, Germany) and launched a new website in German.