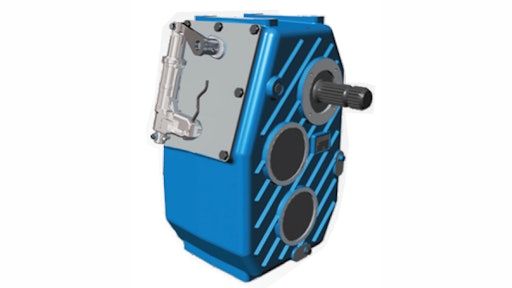 Comer Industries will take part in Eima 2014, the International Agricultural and Gardening Machinery Exhibition, that will occur at the Trade Fair Center in Bologna, Italy, November 12 through 16 (Hall 20, Booth B13).
Comer Industries' new products on display at Eima include the integrated solutions for trailed vertical feed mixer: the A-613 parallel axis unit with electric actuator, ready for integration with the ISOBUS system and the new PGA-2100 VM series planetary drive.
The A-613 gearbox features a low-noise helical gear transmission and an innovative system consisting of an electric actuator with two or three positions and of an internal pre-load mechanism, that enables easy gear change. The A-613 transmission is part of the Mix@tractor project developed by IDEAgri, a network of companies (including Comer Industries) that manufacture integrated systems pursuant to the ISOBUS Standard. IDEAgri will be exhibiting at the AEF (Agricultural Industry Electronics Foundation) showcase in the Eima Quadriportico area.
PGA-2100 drives are a new compact, high-performance series for auger activation on trailed feed mixers, with 2,100 daNm of continuous torque and maximum torque of 4,700 daNm.
This model was developed to offer significantly greater load capacity and torque, in the same dimensions as the 1600 Series, combined with increased reliability of the transmission components and greater resistance under overload conditions.
Comer Industries is also exhibiting a system for self-propelled feed mixers featuring the S-238 axle, which offers the best braking and efficiency performance in its category, and the PGA-2503 VM planetary drive for transmitting the vertical drive to the augers. This is a compact solution that can be combined with different types of hydraulic motors. The system, originally developed for the industrial market, can also be applied to agricultural machinery. This confirms the flexibility of Comer Industries' integrated solutions.
For grain headers, the complete side transmission for cutter bars will be on display, consisting of T-312 unit, now produced in aluminum to obtain a significant weight decrease, the wobble box OS-780 for blade operation and the new "E-torque" driveshaft, equipped with a rubber element device that damps vibrations and alternative loads coming from the grain header cutting system.
Comer Industries will also show the VP professional range of driveshafts, featuring high safety performance, ease of maintenance and long greasing intervals, as well as driveshafts' safety devices such as automatic torque limiters and the easy connecting system.
For application on fixed and variable chamber round balers, Comer Industries offers a wide range of products: on display will be the transmission system consisting of the VP Series constant velocity joint driveshaft and the new input T-290 HD unit, with transmissible power up to 106 hp.
Other products exhibited will include the solutions for corn headers: the transmissions N-670, N-684 e L-170, developed by Comer Industries' Research and Development for important manufacturers in the industry.