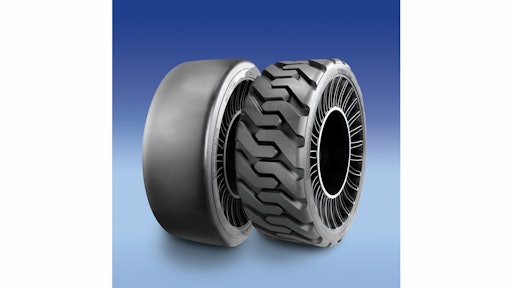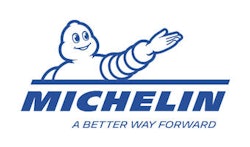 Michelin announces it will expand the market footprint for its airless skid steer tires with the launch of two new versions of the award-winning MICHELIN X TWEEL SSL airless radial tire: a 12N16.5 X TWEEL SSL All Terrain for a wide range of surfaces and a 12N16.5 X TWEEL SSL Hard Surface for pavement use.
Two years ago, MICHELIN Tweel Technologies introduced the first commercially available airless radial tires for skid steer loaders. This revolutionary tire offered a solution to the seemingly unavoidable challenge of chronic flat tires that plague the millions of skid steer loaders relied upon by many commercial operations.
The new All Terrain, which is designed for more rugged off-road working conditions, will be a viable option for such industries as construction and landscaping, and the new Hard Surface tire, which provides more longevity on pavement and asphalt, presents an option for very high-use operations.
The development of Michelin's Tweel technology is significant, since skid steer loaders equipped with traditional pneumatic tires, experience at least two or more flat tires per month. Desperate to find a solution to reduce flat-tire downtime, many users resort to using foam-filled, solid tires or other alternatives that result in diminished traction, handling and ride comfort. The 12N16.5 X TWEEL SSL provides the advantages of no air pressure maintenance, easy mounting, damage resistance, increased operator comfort, reduced operator fatigue, improved productivity and longer wear life than pneumatic tires.
"Our newest versions of the 12N16.5 X TWEEL SSL provide the benefits associated with pneumatic tires, but they don't go flat. This is a breakthrough innovation for skid steers in the landscape, construction, contracting, refuse/recycling and agricultural industries," says Ralph Dimenna, head of Michelin Tweel Technologies. "I urge everyone to stay tuned. This is just the beginning of exciting things to come."
The MICHELIN X TWEEL SSL is now available in two different tread designs, the All Terrain design with a deep, open tread for off-road applications and the Hard Surface design which has greater wear life on pavement and asphalt. In line with Michelin's commitment to lessen the impact on the environment, both MICHELIN 12N16.5 X TWEEL SSL fitments are equipped with advancements that help save resources. The spokes are specially designed to enhance the tires' durability and endurance. In addition, the tires have a deep underlying tread layer that allows the core outside tread to be retreaded numerous times, helping reduce the overall cost of ownership.
The MICHELIN 12N16.5 X TWEEL SSL All Terrain offers high strength, poly-resin spokes to carry the load, reduce machine bounce and provide excellent operator comfort. The spokes are engineered to be self-evacuating in muddy conditions. The tread is designed for maximum traction. The 12N16.5 X TWEEL SSL Hard Surface has a smooth tread with a 100% contact surface ratio which provides the maximum tread life for pavement applications. With a solution for all surfaces, the 12N16.5 X TWEEL SSL is the only commercial product available to offer the advantages of no maintenance, no compromise and no downtime.
The MICHELIN 12N16.5 X TWEEL SSL has received several product recognitions during the past two years. These awards have included a Silver Award in the Transportation category from the 2013 Edison Awards; Equipment Today's 2013 Contractors' Top 50 New Products; Equipment World's 2014 Innovations Awards as one of the "five game-changing" construction products of 2013; a 2014 Manufacturing Leadership Awards by the Frost & Sullivan's Manufacturing Leadership Council and a top 25 Newsmakers of the Year by Engineering News-Record for Dr. Tim Rhyne as a 2014 recipient for his work on the revolutionary technology.