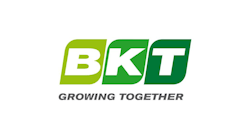 ­­
BKT and its Italian distributor Univergomma are showcasing at EIMA 2014 agriculture tire ranges for high-power tractors, reaping and harvesting equipment, sprayers and trailers. At EIMA, the RIDEMAX FL 693 M and RIDEMAX FL 698 tires for trailers will make their premiere in Italy.
RIDEMAX FL 693 M, exhibited in the size 650/55 R 26.5, is the ideal radial tire for those who frequently travel on the road with trailers or tank trucks. Actually designed for a mainly on-the-road use, RIDEMAX FL 693 M combines excellent performance and self-cleaning features. The D speed index stands for higher speeds on the road, leading to significant time savings. Besides, the low rolling resistance contributes to lower fuel consumption.
Also RIDEMAX FL 698 makes its debut at Eima. Being part of the RIDEMAX family, this all steel radial tire has been mainly conceived for road usage achieving speeds of 80 km/h. It is the right tire for dumpers traveling from pits to sites, for tank trucks and manure spreaders. The all steel structure provides increase of load capacity and extraordinary resistance – essential features for the intended applications.
In addition to these new entries, the tire lines AGRIMAX FORCE, AGRIMAX TERIS, AGRIMAX RT 945, AGRIMAX SPARGO and MULTIMAX MP 522 are showcased. These cutting-edge products have been specially designed for the needs of today's farmers.
AGRIMAX FORCE, displayed in the size IF 900/60 R 38, is a radial tire for high-power tractors (over 250 HP). As a further development of the IF Technology, the tire combines major load capacity and lower inflation pressure compared to a standard tire of the same size. Besides, the large footprint area on the ground along with the special lug design ensures higher traction on the land.
For reaping and harvesting operations, BKT has developed the radial tire AGRIMAX TERIS, which is displayed at Eima in the size 800/65 R 32. This lineup specially features excellent flotation and high load capacity, considerably reducing soil compaction. AGRIMAX TERIS also features a special sidewall protection for increased resistance – and hence a longer tire life – even under difficult circumstances such as the presence of very resistant stems and scrub.
For sprayer and row crop applications, BKT displays two solutions at Eima: AGRIMAX RT 945 in the size 320/90 R 50 and Agrimax Spargo in the size 380/90 R 46. Thanks to a decreased tread width, these tires enable the equipment to easily pass between rows without damaging crops, preserving hence harvest and yield productivity. Thanks to the special VF technology, AGRIMAX SPARGO ensures a higher load capacity at the same inflation pressure compared to a standard tire.
Not least for the agro-industrial segment, BKT takes also Multimax MP 522 in the size 460/70 R 24 to the show. Designed with a reinforced bead and a steel-belted casing, this tire ensures optimum resistance against punctures. The result is a longer tire life and outstanding load capacity, providing at the same time utmost stability and grip under any condition.
More than products at EIMA 2014: BKT is also the sponsor of an important survey on the state and future of contract farming in Italy entitled: "Outsourcing as a key element of competitiveness for Italian agriculture". The study is presented on Thursday, November 13 in the "Pala Green" Hall at BolognaFiere. An address by Ms. Lucia Salmaso, Managing Director of BKT Europe is foreseen.
The contract farmer, a main reference for BKT, is a key figure within agricultural scenery as they own a large number of machinery, which is periodically renewed. Besides, they use large tractors requiring high-performance tires. This is the reason for BKT's strategic choice to sponsor the event followed by a round table with the participation of the major national associations: UNIMA (National Union of Agricultural Machinery Enterprises), ENAMA (National Body for the Agro-Mechanical Industry), FEDERUNACOMA (Italian Agricultural Machinery Manufacturers Federation), CONFAI (Agro-Mechanical Confederation) and UNACMA (National Union of Agricultural Machinery Dealers).