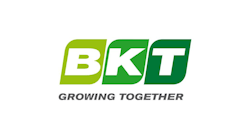 BKT Tires, Inc., a subsidiary of Balkrishna Industries Limited (BKT), opens operations at second North American warehouse location in Wilmington, CA, for OTR tire distribution.
September marked the arrival of BKT's first shipment of OTR tire inventory to be stocked at the west coast warehouse, and dealers began receiving shipments of OTR tires from the warehouse in October.
Shawn Rasey, President of BKT Tires, Inc. says, "The opening of warehousing operations for BKT OTR tires will assure the company can rapidly meet customer needs in the western United States." Shipping from the Wilmington warehouse will include tires ranging in size from 25-inch rims and larger, which will reduce order lead time and provide local access to BKT OTR products. "BKT recently announced opening of OTR tire warehousing in Wando, South Carolina, so the company's ability to supply OTR customers nationwide is now comprehensive," according to Rasey.
Trans Harbor Services, LLC was selected as the freight and shipping supplier because of its capabilities to handle and manage OTR tires. Specialized tire handling equipment fitted with rounded forks, tire-hands and tire slings will assure proper handling to prevent tire damage and protect the tire handling personnel. Ron Tatlock, OTR Training Manager says, "All personnel at the west and east coast facilities have received OTR tire inspection, handling and safety training, and customers will received only the highest quality BKT tire products."
Warehouse services include tire segregation, container consolidation, import and export services, storage, inventory and reporting, non-compliant tire stamping, flatbed load-out, and over-sized tire handling and shipping.