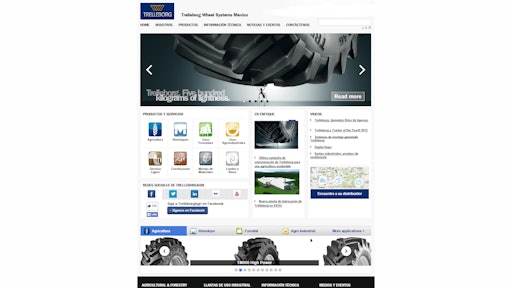 Trelleborg Wheel Systems launches its new website for Mexico and Central America, a portal to access company information, including its global presence, its latest product innovations and technical solutions for tires and complete wheel systems for agricultural and forest machinery, forklift trucks and other materials-handling vehicles.
Andrea Masella, Marketing Manager Agricultural and Forestry at Trelleborg Wheel Systems in North America, says, "The new website will be a very useful tool for our customers in Mexico and Central America. It is a place for us to share local initiatives, promotions, contact information, testimonials and test results. The new web site also includes an extensive technical section where our visitors can learn about tire maintenance, pressure setting and other important tire related topics."
Trelleborg has taken a clear direction for digital communication. Online, Trelleborg aims to show to customers the benefits of Trelleborg's advanced products. For farming professionals, Trelleborg illustrates the benefits of its radial technology, which guarantees comfort for the operator, lower soil compaction, greater traction capacity and reduced fuel consumption, to increase efficiency and improve crop yield. For materials handling professionals, Trelleborg emphasizes the benefits of Trelleborg's newest innovation, the Pit Stop Line. These include better planning, reduced spending and increased safety.
The Trelleborg Wheel Systems website is now available in 16 languages. Trelleborg also has an active presence on the main social media channels such as Facebook and YouTube. It offers several digital apps for professional farmers including the TLC – Trelleborg Load Calculator – that is available in 13 different languages.