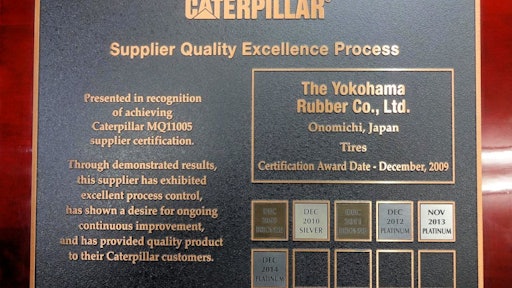 Yokohama Tire Corporation (YTC) announces that its off-the-road (OTR) tire factory in Onomichi, Japan, has earned Caterpillar's 2014 Platinum Level Recertification in its Supplier Quality Excellence Process (SQEP). This marks the third consecutive year that Yokohama has been awarded the construction equipment maker's highest supplier distinction.
"Receiving the Platinum Level Recertification reinforces the commitment we've shared with Caterpillar to provide world-class products and service," says Andrew Zeisser, YTC Director, OE Sales. "We are honored to earn the award again and proud to be working with a top-tier company like Caterpillar."
Caterpillar's SQEP recognizes breakthrough quality improvements in addition to an on-cost, "zero-defect" supply chain management process. SQEP incorporates international standards designed to help suppliers deliver best-in-class quality and performance.
Yokohama's Onomichi plant produces OE and replacement OTR tires for a wide range of equipment.
Companies in this article