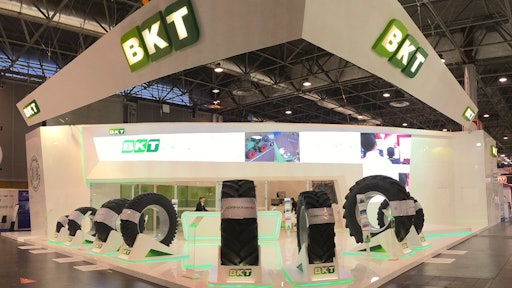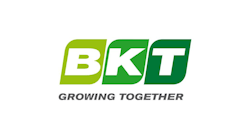 The first public presentation of the new tractor tire, Agrimax Sirio, as a new addition to the range and the launch of the new website bkt-tires.com are just a few of the initiatives BKT has reserved for the international audience at SIMA 2015 in Paris. Professionals and operators in the farming sector from all over the world will enjoy the exciting football freestyle performance and the free football distribution over all the five exhibition days.
In addition to Agrimax Sirio top-of the-range product at the show, displayed in the sizes 710/70 R 38 and 540/65 R 38, also Agrimax Force for high-power tractors in the size IF 710/75 R 42, and Agrimax Spargo, the tire for sprayer and row crops applications in the size VF 380/85 R 38 will be showcased at Paris. Also exhibited at the stand are the radial tire Ridemax IT 696 for transport in the size 480/80 R 38 and the three flotation tires for agriculture trailers: FL 630 ULTRA in the size 600/55 R 26.5, FL 693 M in the size 500/50 R 17 and the FL 630 SUPER tire in the size 750/60 R 26.5.
Another main player at this event is the new BKT website, recently restructured in its architecture, layout and contents providing a definitely user-friendly surfing experience. The new BKT platform can be accessed by any device, computer, tablet and smartphone, for being always at hand. All social novelties of the BKT world and new products to be discovered.
Directly linked to the corporate social networks, the site also hosts a new community, "Around BKT", a virtual meeting point between BKT and all those keen on interacting with the company, a blog and an interactive forum dedicated to the world of off-Highway tires.
Not to be missed at this edition is the distribution of thousands of footballs for free to visitors along with the spectacular performance of two football freestylers, Noel Battle and Colin Nell, amazing the SIMA audience with acrobatic dribbling and unbelievable ball passes.
As usual, SIMA offers the opportunity to meet customers, partners and professional operators in the sector, opening the year 2015 with plenty of international events to follow.