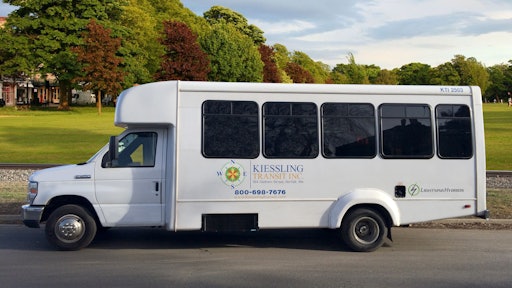 Lightning Hybrids, developer and manufacturer of hydraulic hybrid systems for medium- and heavy-duty trucks and buses, announced an agreement with Kiessling Transit to supply 35 hydraulic hybrid systems. The sale marks Lightning Hybrids' largest order to date. The company's system demonstrated improvements of 30% in fuel efficiency and significantly reduced NOx emissions during a year-long pilot program with the leading Massachusetts-based transportation company.
Kiessling Transit's vehicles, featuring new 2015 and 2016 model year Ford E450 chassis and Elkhart Coach bodies, will have the Lightning Hybrids patented parallel hybrid system installed prior to delivery this summer. The technology, which has no electric batteries, applies a hydraulic system to the driveline of a vehicle to regenerate braking energy. Hydraulic pumps and a lightweight accumulator store braking energy and use the stored energy to power the wheels. The application of this technology will result in improved emissions, less fuel use, longer brake life, better low-end torque, and lower maintenance and operational costs.
"This partnership with Kiessling Transit is a significant milestone for Lightning Hybrids and a testament to the success and benefits of our system in providing a cost-effective and elegant solution for large fleets," says Tim Reeser, President and Co-Founder, Lightning Hybrids. "Kiessling Transit is an innovative, early adopter and was one of the first customers to trial our technology for over a year. Their positive experience and attractive results during the pilot program lead to this substantial follow-on order. This program will demonstrate that it's possible today to make existing fleet vehicles significantly cleaner and more efficient with a high-tech, computer controlled system built on proven and sustainable hydraulic technology."
When put in service, the buses will provide an immediate positive impact on the environment due to the reduced emissions of the system. For example, vehicles with Lightning Hybrids' technology produce half of the NOx emissions and 30% less CO2 emissions, compared to vehicles without the company's system. In addition to these emissions reductions, the Kiessling fleet will see decreased fuel use, longer brake life, better low-end torque, and lower maintenance and operational costs.
Launching the hybrid fleet in Massachusetts
Kiessling Transit purchased a pilot vehicle equipped with the hybrid system through Lightning Hybrids' Boston-based dealer, National Fleet Hybrids, in 2013. The pilot vehicle's fuel consumption was closely monitored during the pilot program. The results, logged through Lightning Hybrids' telematics systems and confirmed through Kiessling's fuel logs, revealed a significant improvement in fuel economy and emissions. Driver feedback also confirmed vehicle performance benefits. Kiessling Transit will use the hybrid vehicles to transport primarily urban-area Massachusetts residents with disabilities. The company is based in Norfolk, MA, and currently contracts with regional transit authorities, state agencies and local municipalities to transport passengers throughout the state.
"Kiessling Transit is excited to incorporate vehicles with Lightning Hybrids' technology into our fleet. We are pleased with the results of the pilot program, which proved a fuel economy gain of around 30% all year, and we look forward to seeing the positive results continue on a much larger scale," says Roger Kiessling, Chief Operations Officer, Kiessling Transit. "Our company is focused on providing the most efficient, reliable, environmentally friendly transportation to the areas we serve, and the Lightning Hybrids system supports this goal."
Lightning Hybrids announced the Kiessling Transit agreement at a press conference during the NTEA's Work Truck Show in Indianapolis, where a walk-in van equipped with the Lightning Hybrids system participated in the Green Truck Ride-and-Drive.