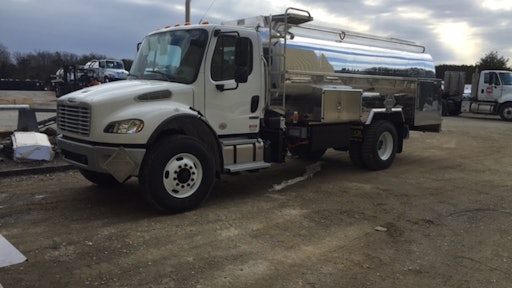 Odyne Systems, winner of the 2013 NTEA Green Truck Award, featured the first Odyne plug-in hybrid system equipped tank truck in booth 4683 at the 2015 NTEA show in Indianapolis, March 4 to 6. Three tank trucks are currently being equipped with the Odyne plug-in hybrid system for delivery to the largest electric power holding company in the United States, and one of those units was on display at the show. The Odyne system equipped trucks will lower fuel costs, reduce emissions and help create a quiet, safe working environment with good work site communications.
The Odyne plug-in hybrid system uses energy from a large advanced battery system to improve efficiency and power during driving. The Odyne plug-in hybrid drive system features proprietary and patented hybrid technology combining reliable electric power conversion, power control and energy storage technology. The system reduces fleet operating and maintenance costs, and depending on duty cycle, enables large trucks to obtain fuel economy improvements of up to 50% compared to traditional diesel or gasoline engines. Odyne continues to deliver the only plug-in hybrid systems on medium- and heavy-duty trucks to improve fuel efficiency both while driving and at the work site.
Odyne systems are capable of supporting 6 to 18 kW of exportable power (versus 3 kW on many other hybrid systems), plenty of power for almost any job including pipe fusion, ventilation and air-conditioning of manholes, and welding. No other truck hybrid system exports that much power from the battery for the work site. Trucks delivered with Odyne plug-in hybrid systems optionally feature advanced grid capabilities to charge the hybrid batteries at the most opportune time, reducing charging costs and excess demand on the utility grid.
Joe Dalum, President and CEO of Odyne Systems LLC notes, "We are pleased to be showcasing another new application for our proven system. We look forward to supporting other tank truck users, applying our highly efficient technology to create a quieter, safer environment for their crews, significantly reduce their fuel costs and emissions, and extend the life of the trucks."
Dalum presented "Odyne's Advanced Plug-In Hybrid Trucks - Applications that Provide Significant Fuel and Emission Reductions" on Wednesday, March 4, during the Green Truck Summit.
Odyne has fielded more plug-in hybrid trucks to fleets throughout the United States than any other supplier. Odyne technology is supporting Investor Owned Utilities who have pledged that 5% of its vehicle investments in 2015 will be for plug-in electric vehicles and technologies.
The Odyne booth was adjacent to the Allison Transmission booth, number 4677, at the NTEA show. Allison has globally endorsed and exclusively approved Odyne PTO-based hybrid electric systems for all propulsion and non-propulsion applications. The Odyne hybrid system interfaces with the Allison 1000, 2000, 3000 and 4000 transmissions to provide launch assist and regenerative braking while driving for improved fuel economy. Allison has a non-controlling interest in Odyne Systems, LLC.