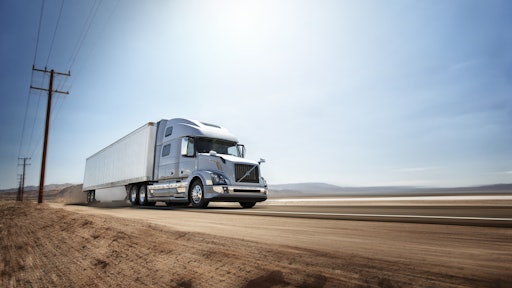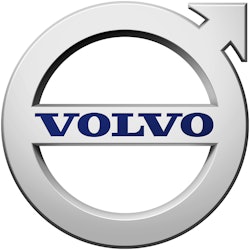 Volvo Trucks showcased its latest fuel efficiency improvements, including a new XE – eXceptional Efficiency – powertrain package for linehaul applications, at the 2015 Mid-America Trucking Show in Louisville, KY.
Like Volvo's other XE packages, XE super direct drive improves fuel efficiency by lowering engine rpms at a given vehicle speed – a concept Volvo calls "downspeeding." By using a direct drive Volvo I-Shift automated manual transmission, the new package offers additional fuel efficiency benefits compared with conventional direct drive transmissions. 
"Volvo Trucks is intensely focused on continual improvement in the key areas that drive our customers' success, and nothing affects the bottom line more than fuel efficiency," says Göran Nyberg, President of Volvo Trucks North America. "However, we understand that all customers are not the same. In addition to improvements like aerodynamic upgrades that help a wide segment of the industry, we have worked closely with our customers to develop powertrain options and other solutions that benefit specific applications."
XE super direct drive, which will be available for order mid-year, is designed for linehaul applications that operate in top gear at a gross combination weight rating of 80,000 lbs. or less with maximum engine torque of 1,850 lbs.-ft.
XE super direct drive incorporates Meritor's new super-fast 2.28 ratio for its 14X tandem drive axle and RPL35 driveline. While Meritor's existing 14X tandem is designed to handle higher torques, Meritor has fortified the design by enlarging the pinion system to accommodate extreme torque levels associated with downspeeding. The 2.28 axle ratio and driveline engineered for downspeeding ensure that torque is transmitted evenly throughout the drivetrain.
A 2.47 rear axle ratio with a direct drive transmission amounts to 1,370 rpm at 65 miles per hour. A 2.28 rear axle ratio equals 1,265 rpm at the same speed. The 105 less rpm between the two equates to an approximate 1.5% improvement in fuel efficiency. 
Fine-tuning power
XE super direct drive is the latest option in Volvo's evolution of XE powertrains optimized for efficiency and performance. Beginning with model year 2016, XE packages feature specific torque profiles based on a variety of factors, such as load profile, cruise speed, terrain, type of roads used and the customer's priorities for fuel efficiency versus performance. XE currently is available in High Torque, Economy and Adaptive Gearing packages, depending on application.
Earlier this year, Volvo launched an online tool to help customers select the best torque package by answering just a few questions about their operation.
Reducing drag and increasing powertrain efficiency
Volvo also has delivered significant fuel efficiency gains in model year 2016 vehicles through aerodynamic enhancements and changes under the hood. All new VNL models incorporate a new bumper design that flows air below chassis components. The VNL 630 and VNL 670 models also feature flared chassis fairings that provide better airflow around tires to trailer skirts. The VNL 670 also has an updated roof profile that further improves aerodynamics.
Under the hood, an improved cooling fan pulls air through the radiator more efficiently, and an updated fan clutch improves cold startup. An upgraded I-Shift cooler, which has been relocated to the transmission itself, brings transmission oil up to optimal temperature faster for greater efficiency.
The model year 2016 aerodynamic and underhood improvements increase fuel efficiency by up to 3.5%, depending on model.