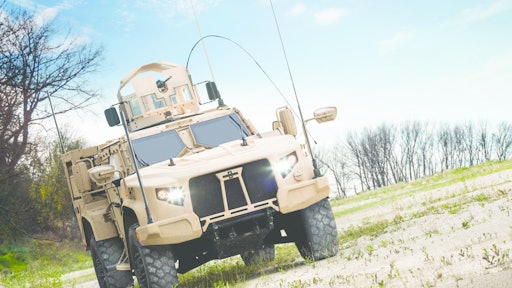 Oshkosh Defense LLC, an Oshkosh Corporation company, will feature its Joint Light Tactical Vehicle (JLTV) solution – the Light Combat Tactical All-Terrain Vehicle (L-ATV) – as well as its Virtual Task Trainer (VTT) at the Association of the United States Army (AUSA) 2015 Global Force Symposium and Exposition in Huntsville, AL. The Oshkosh JLTV solution addresses the U.S. Army and Marine Corps' need for a lightweight, highly-mobile, net-ready vehicle with superior levels of protection so that Warfighters can fulfill their missions even when in harm's way.
"Oshkosh's track record of success with programs similar to JLTV speaks for itself and affirms our ability to provide the best defense vehicle expertise and technology to protect our troops," says U.S. Army Major General (Retired) John Urias, Executive Vice President of Oshkosh Corporation and President of Oshkosh Defense. "With our extensive expertise manufacturing and sustaining more than 150,000 tactical wheeled vehicles for the U.S. Department of Defense and its allies, we are confident that no other company can deliver the proven, low-risk response to the military's JLTV needs."
Oshkosh JLTV Solution

The Oshkosh L-ATV's lightweight, compact design leverages 10 years of research and development, as well as lessons from decades of logistics and combat operating experience. The L-ATV merges key design elements of highly survivable combat vehicles and off-road tactical vehicles to operate in a range of threat levels and terrains.
The Oshkosh TAK-4i intelligent independent suspension system is the next generation of the world's most advanced, combat-proven suspension system, TAK-4. The TAK-4i system provides Warfighters with unprecedented maneuverability and exceptional ride quality to reduce fatigue when traveling the world's toughest terrains.
The Oshkosh Core1080 Crew Protection System is an occupant-centric, comprehensive survivability approach that protects the crew while maximizing all-around vehicle performance. The multi-faceted, fully-integrated system applies advanced components, materials and engineering to optimize whole system survivability. The L-ATV's digitally-controlled engine contributes to survivability by providing the acceleration and speed that Soldiers and Marines need in high-threat environments. The vehicle's power-to-weight ratio is optimized to provide superior power, mobility and speed-on-grade capability.
The L-ATV's net-ready systems integration brings critical network and computing capabilities to a broader range of ground missions. The L-ATV's advantage is based on a unique combination of vehicle Original Equipment Manufacturer (OEM) expertise and extensive in-house C4 and systems capabilities. The L-ATV was designed from day one as a "tactical vehicle system" that enhances the user experience and ergonomics while maximizing overall system performance.
Virtual Task Trainer
 
Oshkosh will also preview its VTT for the L-ATV at the conference. The VTT is an interactive training module that provides 3D training for soldiers in a safe and life-like virtual environment. The VTT complements Oshkosh's highly trained team of experts that deliver comprehensive services to optimize vehicle life cycle cost and advance the highest level of fleet readiness.
 
"The addition of Oshkosh's virtual training to our multi-faceted curriculum reduces the cost of operator training by improving training effectiveness and efficiency," says Mike Ivy, Vice President of Global Integrated Product Support for Oshkosh Defense. "We deployed the VTT to train operators during early JLTV testing with great results. Soldiers were really engaged, and our training was not only better, but it took less time than it would have without the VTT.  This represents a significant cost savings opportunity for the government." 
 
The VTT for the Oshkosh HEMTT fuel servicing truck, or tanker, is composed of 10 virtual 4D modules with more than 87 vehicle components. VTT not only enhances the training experience, but also prevents exposure to hazards and moderates wear and tear on the government's demonstration vehicles. In addition to the VTT, Oshkosh Defense provides hands-on, classroom and simulation training for operators and mechanics as part of its full life cycle services and support for Oshkosh tactical wheeled vehicles.
 
The Oshkosh L-ATV and VTT will be on display at Oshkosh booth #1427 at the AUSA Global Force Symposium and Exhibition from March 31 to April 2, 2015. Oshkosh Defense leadership will also be available to discuss the company's vehicles, technologies and services.