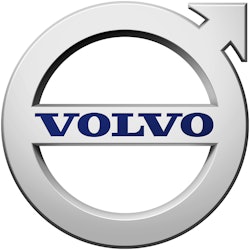 Volvo Trucks' powerful Volvo VNX 630 model, designed for high gross weight applications and heavy-haul tasks like heavy equipment hauling, oil and gas delivery and timber transport, is now offered with a tridem rear axle group, offering maximum traction and an increased payload for customers.
Customized to meet the demanding requirements of heavy-haul applications, the Volvo VNX 630 tridem features three rear-drive axles instead of two, resulting in an 8x6 configuration that can easily manage up to a 69,000-pound rear axle load. The extra traction capabilities of the tridem axle enables the VNX 630 tridem to easily traverse steep terrain, mud, ice and other off-road conditions.
"Power and performance are two benefits our heavy-haul customers demand," says Gӧran Nyberg, President of Volvo Trucks North America. "The VNX tridem meets these needs, offering a solution to ensure the easier transportation of heavy-haul loads."
Equipped with the Volvo D16 engine delivering up to 600 hp and 2,050 lbs.-ft. torque, the VNX comes standard with the Volvo I-Shift automated manual transmission. The I-Shift's integrated sensors identify truck load and road grade to place the truck in the right gear for the conditions, allowing for smooth, optimum shifts, improved fuel efficiency and extended clutch life and service intervals.
The VNX 630 features a mid-roof sleeper equipped with Volvo's ergonomic dash, ample storage room and contemporary styling and trim levels, ranging from vinyl for rugged applications to premium leather for ultimate driver comfort.
The Volvo VNX also provides proven safety features, like a sloped hood and large windshield for superior visibility, standard driver's side airbag and cab constructed with High-Strength Steel.
Standard on all Volvo-powered vehicles, Remote Diagnostics helps maximize vehicle uptime by providing diagnostic and repair planning assistance with detailed analysis of critical diagnostic trouble codes. In addition to providing proactive diagnostic and repair planning assistance, the service helps improve parts availability and provides technicians at the repairing dealer with easy-to-read repair instructions before the truck arrives for service. Remote Diagnostics has demonstrated a marked improvement in repair accuracy and efficiency, reducing the average diagnostic time at service locations by 70% and lowering the average time of repair by more than 20%.