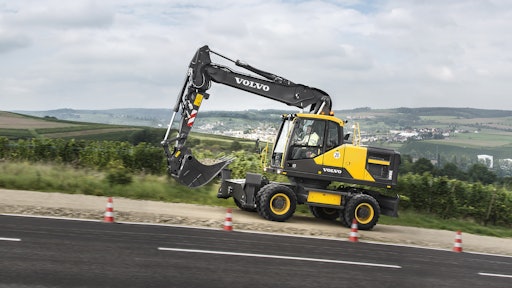 The latest wheeled excavators from Volvo Construction Equipment, the EW160E and EW180E, are multi-tasking machines designed to cater to all the operator's needs on the jobsite. Both models can be tailored to suit customers' precise specifications, with a whole range of flexible configurations that allow operators to change attachments quickly and easily, and add on useful features.
Powerful efficiency
Powered by robust Volvo D6 Tier 4 Final engines, both machines are designed to operate at lower engine rpm with an automatic idling system, which reduces fuel consumption and results in quieter operation, all while maintaining impressive power. Volvo's unique ECO mode reduces flow and pressure losses in the hydraulic system, further resulting in improved fuel efficiency without any loss of performance.
Flexibility to accomplish any job
Customers can choose from 12 different configurations of tires (including single and twin) from eight different suppliers, to best match anticipated ground conditions. Customers can also select different arm lengths in line with jobsite requirements.
Optional hydraulic functions 'X1 breaker/shear' and 'X3 tilt rotate' provide power for attachments that require one- or two-way flow, as well as a two-way flow for tilting or rotating attachments, respectively. The corresponding buckets, breakers and grapples (together with a quick coupler) have all been purpose-built to work in perfect harmony with Volvo machines, forming one solid reliable unit.
Not only can operators change attachments quickly and easily to perform all tasks on the jobsite, they can also bring them along wherever they go in a special tool box drawer that slides out from the undercarriage, saving time in transport and ensuring the excavator is always ready to work. This newly developed feature can carry up to 264 lbs. (120 kg). Box dividers, which can be adjusted into five different positions, help the operator stay organized, while a mechanical stopper prevents the drawer from sliding out during transport or operation. There is further storage inside the cab, as well as ample leg room.
Both models are approved for road use and can be fitted with a trailer hitch that can pull up to 17,637 lbs. (8 tons) with dry run brakes and 6,613 lbs. (3 tons) without brakes.
"Our powerful new wheeled excavators come with increased versatility and customer-focused features, like an ergonomically designed cab with easy control access, and options like the Volvo Smart View camera system, which provides 360-degree visibility from the cab," says Rob Palermo, Product Manager, General Purpose Equipment Products. "Operators can work comfortably and efficiently until the job gets done."
Comfort and control
With a redesigned Human Machine Interface (HMI) system, all the machine controls have been ergonomically positioned for optimum control and efficiency, and the number of switches has been significantly reduced to simplify operator tasks with convenient, intuitive shortcuts and a larger 8-inch display.
Excellent all-round visibility is provided by the large windshield — both models have an improved view to the right — as well as the new optional Volvo Smart View feature. With Volvo Smart View, three cameras attached to different corners of the machine — the front, side and rear — combine to show real-time footage of the machine operating from above. The three cameras also film individual views of the front, side and rear of the machine. This intelligent and industry-leading technology helps the operator to see all angles and ensure safe rotation.
In addition to a comfortable and convenient work environment, productivity is also increased by the excellent control afforded by the EW160E and EW180E excavators. The boom suspension system, for example, with its hydraulic circuit and gas pressure dampers, enables the operator to travel faster over bumpy roads or rough terrain, while the overall hydraulic system has also been improved for greater responsiveness.
Easy maintenance
To keep the excavators in top condition and ensure uptime, both models have been designed with ease of servicing in mind. As soon as the machine is started, it automatically checks all fluid levels on board, including engine oil and hydraulic fluid, and alerts the operator on the electronic display if any attention is required. For ease of refueling, an electric fuel filler pump delivers over 13 gallons (49 liters) of fuel per minute. It is conveniently located next to the fuel tank and can be accessed from ground level. Filters and greasing points are also accessible from ground level and are grouped together. Fast and easy access for cleaning and maintenance means regular checks are more likely to be done, spotting problems early and increasing the machine's life.
The Volvo CareTrack telematics system on the excavators provides access to a wide range of machine monitoring information designed to save time and money. With CareTrack, fuel costs can be reduced, machine and operator performance optimized, and service and maintenance proactively managed to maximize uptime. Remote monitoring with CareTrack provides new levels of control and efficiency. Volvo real-time service alerts via CareTrack also help promote a good service and maintenance routine.
Safety-compliant and durable
For further peace of mind during operation, customers can rest assured that the Volvo EW160E and EW180E excavators have been designed and tested to ensure the highest standards of efficiency and reliability. The cab is ROPS compliant and the Volvo engines meet stringent Tier 4 Final regulations in North America. The robust excavator axles with automatic or operator-controlled front axle oscillation are highly durable, as is the undercarriage, which protects itself through high ground clearance and is strong enough to endure tough environments.