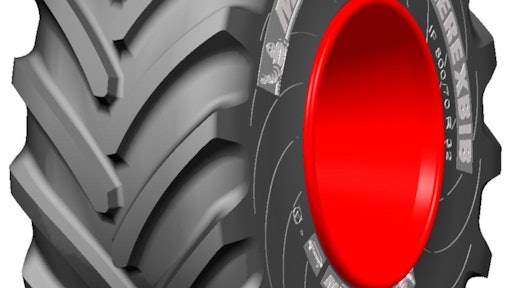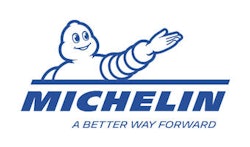 MICHELIN Agricultural tires is launching four new tires for tractors, sprayers, harvesting equipment and large implements in North America, as well as an industry-first satisfaction guarantee on the well-known Ultraflex line and a new mobile app that calculates the proper air pressure for tractor tires. Also on display during the Farm Progress show in Decatur, IL, will be an example of both of Michelin's current VF tractor tires.
All six tire models, each with a unique tread design, feature Michelin Ultraflex Technology, which enables tires to operate at up to 40% lower air pressure compared to standard radial tires, resulting in a larger footprint for reduced soil compaction and higher yields. A recent Harper Adams University study demonstrated a 4% yield increase with Ultraflex tires compared to standard radial tires.
The expanded line-up of MICHELIN farm tires include:
The MICHELIN VF480/80R50 179D SprayBib is an expansion of Michelin's popular VF (Very High Flexion) high-clearance sprayer tire offering. "The tire is designed to offer farmers a unique balance between a narrow tire to avoid crop damage and a flotation tire to minimize compaction," says James Crouch, Farm Segment Marketing Manager for Michelin North America. "With a maximum load of over 17,000 pounds and a top rated speed of 40 mph, this wider and higher-load capacity addition to the SprayBib family is equipped to handle the largest high-clearance sprayers on the market." The new VF480/80R50 179D SprayBib will be available in September 2015.
The MICHELIN 710/45R22.5 165D CargoXBib High Flotation is one of the latest additions to Michelin's renovated large implement line. A new tread design, which will replace the current CargoXBib tread design that has been available in North America for the past seven years, provides improved cleanout. This new tire line, designed with Michelin Ultraflex Technologies, allows the tire to fully utilize central inflation systems and get to the lowest pressures possible while in the field for the most soil protection possible. The 710/45R22.5 165D CargoXBib High Flotation will be available in December 2015.
The MICHELIN IF900/65R46 190D AxioBib offers the highest levels of load capacity and the lowest levels of compaction a farmer could ask for on large mechanical front-wheel drive (MFWD) and four-wheel drive machines in singles. At 7 ft. 6 in. tall with a capacity of almost 24,000 pounds, it is the largest farm tire in in the world. Introduced in Europe in 2014, this new size addition to the AxioBib family will launch in March 2016 for North American farmers.
The MICHELIN IF1000/55R32 CFO 188A8 CerexBib is the newest Michelin tire designed for large harvesting machines and grain carts. Launching in June 2016, it will offer a massive load capacity and a giant footprint. Built with Michelin Ultraflex Technology, it also minimizes the soil compaction caused by new large harvesting equipment.  
The current MICHELIN VF tractor tires on display include:
The MICHELIN VF710/60R42 161D XeoBib tire is designed for high horsepower tractors in singles. The Xeobib, previously introduced in Europe and now available to the North American farmer, is designed for high horsepower tractors in singles. The XeoBib line is designed to operate at up to 40 mph and carry heavy loads while offering Michelin Ultraflex Technology's highest level of soil protection.  
The MICHELIN VF480/80R50 166A8/166B YieldBib is the largest tire in the YieldBib line that also minimizes compaction for MFWD tractors. "The YieldBib tire also includes Michelin's Stubble Shield technology to provide added durability against stubble damage by utilizing an exclusive rubber compound and reinforcement in the center line of the tire," Crouch says.
Ultraflex Promise Plan
Standing behind the Ultraflex tire lineup, Michelin is also announcing an industry-first full-year farmer satisfaction guarantee for the purchase of any Ultraflex tire. Farmers can try Michelin Ultraflex replacement tires risk-free for a whole year and return the tires for a refund if they are not satisfied. 
Michelin launches a free mobile application to calculate agricultural tire pressure
Michelin is offering farmers access to an easy-to-use mobile application that features a number of unique functionalities. With the Michelin pressure calculator, real-time agricultural tire pressure information is just a photo and a couple of clicks away.
Using the Michelin Pressure Calculator involves three simple steps:
Type the load supported by front and rear axle.
Enter the type of tire fitted to the front and rear of the tractor using the drop-down menus.
Take a photo of the tractor with your smartphone. The application's built-in camera function precisely calculates load distribution and the length of the overhang measured from the wheel axles. This feature is the only one of its kind on the market.
The Michelin Pressure Calculator can instantly work out the most appropriate tire pressure for the desired load and speed. This gives farmers the best pressure information possible to help them maintain road safety as well as protect the soil. The app is free on both Android and iOS devices and available in four languages: French, English, German and Spanish.