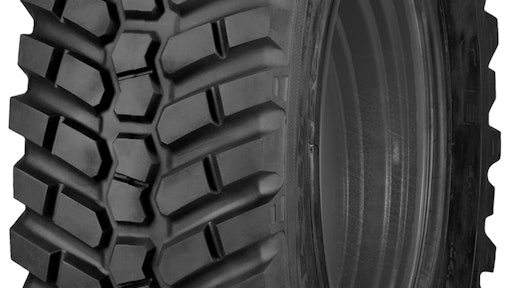 As a full-range provider, the Osnabrück company Bohnenkamp AG offers reliable solutions to its customers for individual requirements. The enterprise relies on an extensive product and service assortment which cover inner tubes, rims and vehicle parts in addition to tires and wheels. From this range of products, Bohnenkamp is able to offer an individual total package for each customer which is adapted to its requirements, basic conditions and budgets.
At Agritechnica, the wholesale tire distributor together with some products from partners Alliance and BKT presented an extract from its broad range of products. According to Heiko Holthaus, General Agrarian Area Manager at Bohnenkamp, "At Agritechnica, we are showing, among other things, high-performance complete wheels, in which we have combined tires from Alliance or BKT with suitable rims from manufacturers GKN, Levypörä Oy and Hartwig. The almost endless combination options which result from our range enable to us to offer solutions to customers tailored exactly to their needs." High-performance tires formed the focus of Agritechnica this year. 
Alliance
With Agriflex 372 size IF 800/70 R 38 CFO, Bohnenkamp presented a tire which is suitable both for tractors in higher usage (from approximately 220 hp), and on harvesting machines in cyclic field operation (CFO). Furthermore, it offers outstanding on-road comfort and is suitable for high speeds. It ensures excellent soil protection and outstanding traction. Agristar 385 H.S. was shown in size 480/80 R 50 and is an AS-radial tire of the 80/85 Series for tractors up to approximately 200 hp. Its high air volume provides for enormous load capacity and excellent ride comfort. Its R-1W profile has an approximately 20% larger profile depth in relation to the R-1 profile and offers, in connection with its optimal number of lugs, good traction and self-cleaning. Furthermore, it is equipped with a "Stubble Guard" rubber mixture which protects the tire against punctures through e.g. corn stubble. Its strengthened bead and lug provide for a long life span.
Also shown was the Farm Pro 846 in size 480/80 R 42. This agricultural tire is in the 85/85 range for tractors in the 50 to 160 hp performance range. A special feature is the R1-W multi-angle lug particularly developed for this tire. It provides for good traction, even on wet soils. Furthermore, it has so-called "pads" between the lugs. These elevations work like dirt crushers, breaking earth incrustations open and making substantially better self-cleaning of the tire possible. Beyond that the intensified lugs and bulge ranges ensure, in addition, the improved rubber mixture for a pronounced robustness, a long lifespan and high ride comfort.
Multiuse 550 M+S is a contracting tire for versatile usage, for example for tractors in contractor use with high road usage or in green fodder and corn harvest. At Agritechnica, Bohnenkamp displayed the tire in size 650/65 R 42. Its block profile provides excellent performance, particularly in winter conditions. Compared to standard AS-tires, the smaller rolling resistance of its block profile enables high fuel saving. The steel belt reinforcement of the Multiuse provides for high load capacities and protection from punctures.
The Agri-Transport 393 is a newly-developed flotation tire with steel belt reinforcement which was conceived for usage on heavy transport vehicles and slurry tank carts, as well as grain wagons with mixed road and field operation. It has a direction-bound block profile, which lends to a small rolling friction and very good self-cleaning. Its high air volume provides for low soil compaction and high load-bearing capacity even at low air pressure.
BKT
BKT Agrimax Force in size IF 900/60 R 38 was especially developed for tractors of the high-performance class from approximately 250 hp. It unites all the advantages of IF technology in a high-performance total package. It offers a maximum footprint for low ground pressure and the best traction possible. The efficient and soil-protecting treatment of the arable land makes long-term increased returns possible and lowers the operating cost through minimized fuel consumption.
With the BKT Agrimax Teris size IF 580/80 R 34 CFO, Bohnenkamp presented a super-volume tire with IF technology which was especially developed for usage on harvesting machines, self-drivers for the nutrient yield and further agricultural vehicles. It is suitable for CFO and also has side panel treads which protect the tire against damage. Its large proportion of polyester breaker plies guarantees improved driving and high stability in usage.
The new radial tire BKT Agrimax Sirio H.S. size IF 600/70 R 30 is aimed at tractors of the performance class over 250 hp. Thanks to its load/speed index of 162E, it permits high load-carrying capacities at speeds up to 70 km/h. This reduces the always-constant footprint and fuel consumption. Furthermore, it offers high travelling comfort with its flexible side panel. The radial carcass construction with six polyester layers guarantees excellent stability, both on the road and in the field.
BKT has developed the steel belt flotation tire Ridemax flat steel bar 693 M for versatile usage on the most varied agricultural vehicles and trailers. The FL 693 M is a steel belt tire which is suitable for various applications on agricultural vehicles and trailers. It has a high load capacity, which guarantees an unusually high transportation together with the 65 km/h approval (sometimes up to 70 km/h). Its modern, direction-bound profile provides very good road characteristics on the one hand and outstanding self-cleaning characteristics during field use on the other. Furthermore, the FL 693 M offers very small rolling friction, which enables fuel savings.
With the RT 657, BKT presents a broad tire of the 65 Series for tractors of up to 250 hp. Solid lugs and a larger footprint for outstanding traction during the heaviest tillage. Furthermore, its high air volume and the variable air pressure adjustment enable careful usage a careful employment and a small rolling friction for minimized fuel consumption. The approved 65 km/h make high transport capacities possible. At Agritechnica, Bohnenkamp displayed the tire in size 650/65 R 42.
Companies in this article