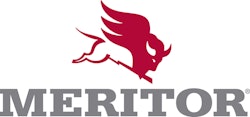 Meritor Inc. of Troy, MI, and Alignment Express of San Diego, CA, are donating their time and talent to the Remembrance Rescue Project to preserve a historic FDNY rescue truck that was a first responder to the World Trade Center attacks. Meritor built the driveline, axles and brakes in its Laurinburg, NC, facility which Alignment Express will install. This gift in kind is equivalent to more than $32,000 in time and materials.
Rescue 5 is the second fire truck Meritor has helped to refurbish for the Remembrance Rescue Project, which is focused on restoring and preserving these pieces of history from the 9/11 attacks in 2001. Last year, Meritor installed a 21,500-lb. front steer axle and the 46,000-lb. rear tandem axle on Rescue 4, which along with Rescue 5, tours the country.
"These traveling memorials are an educational effort that helps keep the 9/11 tragedy and those heroes who were first on the scene alive in our memories," says Tim Burns, Vice President, Defense & Specialty, North America for Meritor. "The new axles are built with current technology and faster gear ratios so each of the Remembrance Rescue trucks can travel the highways more efficiently."
Meritor built the RD160 tandem rear-drive and FL943 front-steer axles in Laurinburg and shipped them to Alignment Express in San Diego, which is donating labor time for installation. Alignment Express owner Mark Slane says he was ready to commit his 15,000 sq. ft. garage's time to the two-week project the moment he heard about the restoration.
"Our team is very patriotic, and Rescue 5 is a symbol of America," Slane says. "The 9/11 tragedy didn't just happen to New York – it happened to everybody, and we must not forget about it."
Meritor has been a Proud Preservation Partner with Remembrance Rescue since 2014, with contributions exceeding $80,000 in monetary and in-kind donations. 
Chris Gantz, founder of the Remembrance Rescue Project, says his organization relies heavily on volunteers and companies like Meritor and Alignment Express to keep the rescue vehicles on the road. The new Meritor axle systems will reduce fuel costs, and replacement parts will be easy to find, Gantz says.
"With the new Meritor axles, we've gone from a rescue vehicle that could travel at 54 mph to one that now handles safely at 72 mph," Gantz says. "Because of Meritor and Alignment Express, Rescue 5 will stay active for educational purposes, keeping the memory of the 9/11 firefighters alive. As long as people can continue seeing and touching it, we've fulfilled our mission."