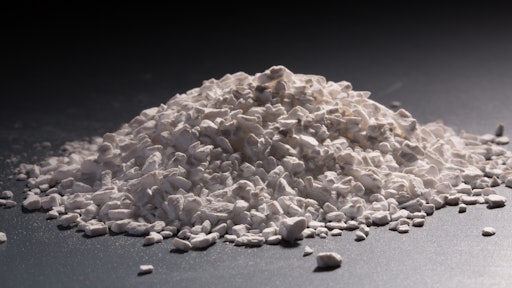 PPG announces that the U.S. Department of Energy (DOE) is providing funding to support a $1.25 million collaborative project with Bridgestone Americas Inc., (Bridgestone). This project focuses on improving the fuel efficiency of truck and bus radial tires using PPG's AGILON performance silica platform. The goal of the project is to deliver prototype tires to DOE that help trucks and buses achieve fuel-efficiency improvements of 4-6% while maintaining or improving tear strength and tread wear. Research and development work for the project will be completed at PPG's Monroeville, PA, facility.
Anup Jain, PPG Vice President, Specialty Coatings and Materials, says PPG's collaboration with Bridgestone has the potential to significantly change the truck tire industry. "We are excited to partner with Bridgestone on this important project," he says. "The DOE funding validates what our preliminary research already has shown – that Agilon performance silica has significant potential as a next-generation filler to help increase truck tire fuel efficiency."
Improving the fuel efficiency of trucks and buses would provide significant economic and environmental benefits. According to DOE reports, heavy-duty vehicles comprise only 4% of all vehicles on U.S. roads but consume approximately 20% of all fuel. PPG estimates that if even 25% of all tractor-trailers on the road improved fuel efficiency by 4%, they would consume 750 million fewer gallons of diesel fuel annually, saving nearly $2 billion and reducing carbon-dioxide (CO2) emissions by nearly 8 million metric tons.
According to Kurt Danielson, President, Bridgestone Commercial Group, Bridgestone has a long-standing commitment to environmental sustainability. The company's environmental mission is "to help ensure a healthy environment for current and future generations," and as the world's largest tire and rubber company, Danielson says Bridgestone believes it has a corporate responsibility to produce sustainable products in the most sustainable way. Using 2005 data as a baseline, the company's midterm target is to achieve a 35% reduction in CO2 emissions by 2020.
"Our partnership with PPG was created for our customers," Danielson says. "We are constantly working to deliver innovative solutions that not only align with our company's environmental mission but will also carry cost saving benefits for our truck and bus radial tire customers."
Jain adds that Agilon performance silica is part of PPG's global commitment to helping the transportation industry and its suppliers manufacture more sustainable products. "From coatings that contribute to lighter, more fuel-efficient and more corrosion-resistant vehicles, to paint systems that enable automakers to conserve water, we are dedicated to developing products such as Agilonperformance silica that help protect the planet and help customers such as Bridgestone meet the safety, performance and value demands of car and truck owners around the world."
Agilon performance silica is a high-value technology platform of chemically modified precipitated silica that can improve the performance of rubber products in which it is used. Testing indicates that the chemical modifications used to produce Agilon performance silica make the silica more compatible with the natural rubber typically used in truck and bus radial tire applications. This will allow the silica to better mix with the rubber, enabling better tire performance than is possible with conventional silicas.
Companies in this article