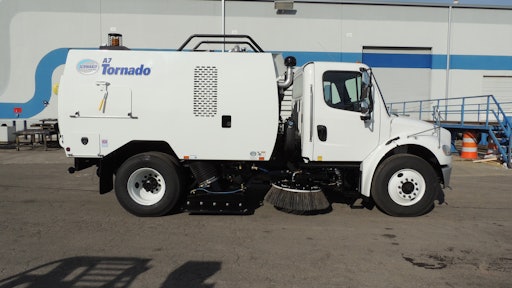 Schwarze Industries announces the development of a compact wheelbase Freightliner M2 for mounting the A7 Tornado and A9 Monsoon high-performance regenerative street sweepers.
Schwarze Product Manager Brian Giles reports that extensive voice of the customer research indicated that an increased maneuverability chassis was desired for sweeping areas that required tighter turns, and explains that over the last 10 years, commercial chassis had increasingly long wheelbases to accommodate increased engine emission control devices.
Giles also reports that Schwarze Industries worked closely with Freightliner engineering to relocate the exhaust aftertreatment from under the cab to between the frame rails.
This exhaust system move benefits the sweeper operator in two distinct areas. Firstly, it allowed an overall reduction in wheelbase and an overall length that subsequently improved the turning radius, and secondly, allowed the side brooms to be moved to directly behind the front wheels, allowing the operator to better control the broom contact with the curb.
Companies in this article