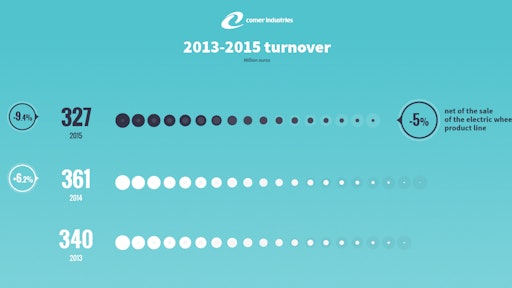 Comer Industries concludes 2015 with consolidated revenue of 327 million euro, compared with 361 million Euro in the previous fiscal year (-9.4% over 2014), and a net financial standing that is improving over 2015. Net of the sale of the electric wheel product line on January 1, 2015, on a comparative basis, the decrease in revenue was 5%.
In a climate of sharp decline in the agricultural equipment sector, the drop in total sales is below the level of market decline while agricultural and industrial clients, leading world machine manufacturers, recorded double-digit decreases in sales in 2015, particularly in North and South America. For Comer Industries, the negative effect of the economic situation was mitigated by its strategy of global market coverage and diversification over five product lines launched in recent years.
To improve competitiveness and promote innovation on all levels, the company draws inspiration for its efforts from the principles of EFQM (European Foundation for Quality Management). With this approach, the company has further developed the Comer Business System, the organizational model it has adopted to manage change in all major business areas, from sales to engineering by way of production. Comer Industries has demonstrated that it works with enormous resolve, earning the rating of Recognized for Excellence - Three Stars during the EFQM assessment last November.
In 2015, Comer Industries garnered significant international acknowledgments, including the Award for Innovation from CLAAS, one of the leading manufacturers of agricultural machines and equipment, and the World Class Manufacturing Award from CNH Industrial, a global leader in the field of industrial capital goods. The new Gearboxes factory in Reggiolo, built after the 2012 earthquake with the most advanced technologies, earned a Green Industries honorable mention during the Bioarchitecture and Domotics Week last November.
Comer Industries works in collaboration with the leading machine manufacturers and builds lasting partnerships in all areas of the company's business to guarantee excellent products and services for its clients. "Despite the difficult situation globally, marked by a drop in the price of raw materials, we have continued to invest in new products and processes to increase efficiency and competitiveness," says President & CEO Fabio Storchi. "For 2016, we anticipate the expansion and modernization of our industrial factory at Via Magellano 37 in Reggiolo, a new technological center for cutting-edge machining. We will also be expanding the Mechatronics Research Center to better respond to the need to validate our transmission systems and reduce the time to market. Internationally, we are working on opening the factory in Bangalore, India, as the first step in Comer Industries' penetration into the Indian continent. We are confident that the company will resume its growth path with the new positive market cycle expected by year's end."