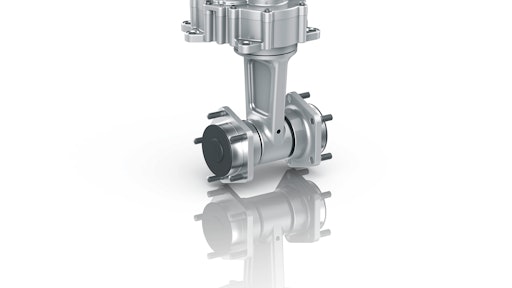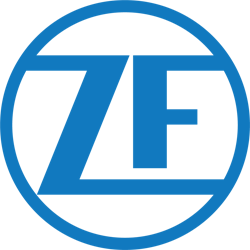 ZF, the market leader for driveline technology for electric counterbalance forklifts has further optimized its products.
GP 25
In the engine power class up to 2.5 T, vehicles with ZF Driveline systems are achieving the same driving performance as forklifts powered by combustion engine technology. For this purpose, ZF has optimized the line for two-engine drives. These drivetrain systems are today's benchmark for efficiency, thus energy performance and noise level. This was tested and approved by independent technical magazines. Any forklift operator appreciates the long service intervals. 
ZF ERGOMAT GP 21 has a dual-motor drive system for counterbalance lift trucks with integrated wet-running multi-disc
brake. This previous generation of the GP 25 is fully localized in Hangzhou. It meets the requirements of the Asian market with the high quality standards of the worldwide ZF production systems. 
GPA 35
This drive axle with two integrated high performance motors and integrated multi-disk brake is setting standards in vehicles with up to 3.5 T lifting capacity. Vehicles with GPA 35 are on the same handling capacity performance level as forklifts with IC technology. Efficiency improvements once more lead to reduced energy consumption and enhanced battery operating distance. The low operating noise of the GPA 35 is already well-known. 
EPS3
The electro-mechanical steering system is soon replacing hydrostatic steering systems for front driven counterbalance forklifts. Its main advantages are:
Low energy consumption
New dynamic safety functions
Significantly reduced installation complexity for forklift assembly
ZF is certain that the steering system EPS3 co-developed with ZAPI will achieve the same success as other ZF product lines.
GK 26 LD
This powertrain for rear driven three-wheel counterbalance lift trucks represents the next generation of this configuration within the product line. Noise level, efficiency and service friendliness could again be improved. In such a way this drive system - as the counterparts in storage technology - is operated with life time oil-filling. 
The energy efficiency could be improved through:
Small shaft sealing rings
Improved and optimized pre-stressed bearings
The proverbial ZF gearing quality
GK line
The same advantages apply for this storage technology system as for GK 26 LD. With the GK line, ZF offers an all-purpose driveline construction kit for this kind of vehicle – all optimized for their individual application demands. For all applications, ZF is able to access the optimized engines of well-known producers. ZF has the ability to offer its customers pre-finished and tested driveline solutions first-hand together with brakes, steering-systems, vehicle adaptation and vehicle integration. The ZF patent hypoid gearing offers the customer an optimum of power (torque capacity), durability and high gear ratio, requiring minimal installation space.
In the battle for increasing handling capacity, more and more customers trust in the unique selling point of ZF.
ZF's consistent growth exceeds average market growth rates and evidences that more and more sophisticated customers trust in the solutions provided by ZF. Its drives have proven themselves in all applications and all markets.
GK 10 LD
All advantages also apply for the latest development GK 10 LD. This product serves the global platform market for walkies and riders. Optionally it can be equipped with 9 in. tires for European and Asian markets and 10 in. tires for North America.
The GK 10 LD is produced in China. It fulfills all quality standards for ZF products.