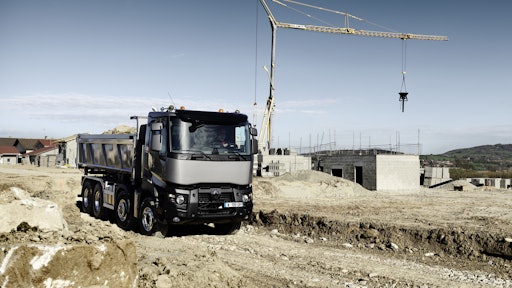 OptiTrack is a technology that Renault Trucks has been developing since 2009, designed to increase a vehicle's pulling power while still controlling fuel consumption and maintaining a high payload. Now available on the Renault Trucks C for 8x4 (with the DTI 11 and 13 engines) and 8x2*6 (with a DTI 11 engine) configurations, OptiTrack gives a vehicle additional temporary pulling power via two hydraulic motors in the wheel hubs of the second front axle. This system means that a vehicle can benefit from all-wheel drive on demand for a short period without being subject to the drawbacks of a "conventional" all-wheel drive vehicle, particularly when it comes to fuel consumption, loading height, maintenance costs and additional weight.
Newly available for two additional configurations, the OptiTrack offering now covers most of the configurations used in the building sector: 4x2, 6x4, 6x2*4, 8x2*6 and 8x4 (left-hand drive only). This means that whatever their field of activity, clients can now choose a vehicle with greater mobility, a higher payload and better consumption when they do not constantly require "all-wheel drive" capability.
Outstanding pulling power from 0 kph
Simply by pressing a button on the dashboard, the driver can engage or disengage the system in forward or reverse mode. OptiTrack is operational from 0 kph and automatically disconnects once vehicle speed reaches 25 kph. The system connects via an engine rear PTO, thereby leaving PTOs on the gearbox fully available. OptiTrack is associated with the Optidriver manual automated gearbox, supplied as standard on all Renault Trucks vehicles. Finally, for optimal safety, OptiTrack is now compatible with the Voith hydraulic retarder.

Optimized payload
The Renault Trucks C OptiTrack can get out of difficult situations while maintaining a payload higher than that of an all-wheel drive vehicle (a difference of 600 kg). Compared with the Euro 5 range, Renault Trucks has reduced the system's weight by 90 kg. Thanks to an optimized unladen weight, vehicles in the Renault Trucks C range offer an outstanding payload capacity.
Priority given to comfort, safety and productivity
By choosing an OptiTrack vehicle, hauliers improve their vehicle's productivity: its drivers' missions are more secure, irrespective of weather conditions, and optimize the vehicle's fuel consumption. Great attention is also paid to driver comfort. First of all, the system's simplicity allows the driver to get out of a difficult situation perfectly safely. Comfort is also provided by the low chassis height compared with an all wheel drive vehicle, making cab access easier and rigs more stable.
With the new OptiTrack offering on the Renault Trucks C, now available with the DTI 13 engine, the Optidriver manual automated gearbox and the Voith retarder, Renault Trucks offers its customers - particularly in mountainous areas - the perfect tool for improving their productivity.