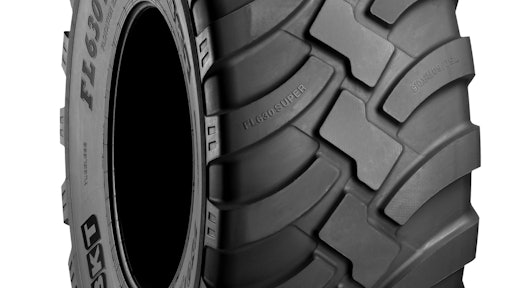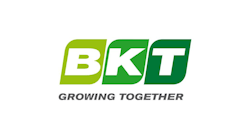 Fielding a comprehensive lineup of product novelties and ultimate tires for agricultural, industrial and construction machinery: this is BKT's public appearance at Reifen, the main international trade show for the tire industry.
The purpose is showing clients, partners and visitors the extensive variety of ranges available in all business segments the company operates in. BKT also aims at emphasizing its versatility in developing new sizes and specific technological solutions for all applicative needs.
To represent the agricultural tire ranges, not less than four patterns are on display at Reifen.
Agrimax Force, exhibited in size IF 650/85 R 42, is the high-end product within BKT's tire solutions. Engineered for high-power tractors by means of redesigned IF technology, this BKT tire provides a large footprint and hence uniform load distribution, reducing at the same time soil compaction.
Still part of the well-known and well-tried Agrimax line, BKT showcases Agrimax Sirio in size 540/65 R 30. This high-speed tire has been specifically designed for high-performance tractors, and allows for transporting heavy load at a speed of up to 70 km/h. It is a truly innovative product with key features such as outstanding driving comfort, excellent lateral stability, and lower environmental impact.
There is a new size available for Agrimax RT 600, the perfect radial tire for lawns and loose terrains, which is presented at Reifen in the new 620/75 R 26 version. Extremely delicate on the soil, it is the ideal tire for machinery operating on grassland, but also for harvesting and spraying applications as it features high load capacity, optimal stability as well as excellent traction.
Another showpiece is the flotation tire FL 630 Super for trailers, tankers and spreaders, exhibited in size 650/55 R 26.5. Versatile and suitable for any kind of land and road, this tire offers particular resistance in addition to a uniform drive. The new special formula of its HD (Heavy Duty) compound makes the tire extraordinarily resistant even under extreme conditions.
The BKT tire range for construction machinery is represented by Earthmax SR 31, which was just launched at bauma in Munich in the 23.5 R 25 size. This product is great in terms of stability and robustness. Conceived for loaders, dozers and articulated dumpers, it stands out for extraordinary traction and maneuverability even under the toughest operating conditions.
In this case, too, the special tire tread compound performs very well, countering both impacts and high temperatures. Moreover, the radial casing structure guarantees a reduced rolling resistance, which results into lower operating costs.
The industrial range is also present at Reifen with several appealing products on display.
To start with the novelty displayed in Essen as international preview: the new 7.00-12 5.00 in. size of Maglift, a tire specifically developed for forklift trucks. It is showcased in its new non-marking version, which means it is made of a special white compound so that no traces will be left on warehouse flooring. This type of compound is indeed sought-after in the food, fruit and vegetable sector, as well as the pharmaceutical industry in order to guarantee industrial hygiene and to facilitate surface cleaning.
The industrial range also includes two new products recently presented at bauma: Portmax PM 90 and Liftmax LM 81.
Portmax PM 90- exhibited in size 18.00 R 25 - is a radial tire with multi-layer steel belts designed for reach stackers carrying out port container handling operations. Its all-steel structure makes the casing more robust and allows for a better weight distribution of loads on the contact surface.
Liftmax LM 81, instead, is specifically conceived for forklifts, and is exhibited in size 7.50 R 15. Stability, resistance, driving comfort over long distances even at high speeds, and durability are the main features of this product.
Portmax PM 90 and Liftmax LM 81 have an important trait in common: their low rolling resistance contributes to considerably reduced fuel consumption, providing significant economic and environmental advantages.
Finally, within the industrial range, there is a multi-purpose tire that is extraordinarily suitable also for agricultural applications. It is Multimax MP 540 – exhibited in size 335/80 R 20 – which ensures top performance in all operating conditions both in the fields and on the road for the municipality and maintenance segments.
The special tire tread design and the robust nylon casing guarantee maximum resistance to impacts, excellent traction and outstanding self-cleaning properties.
BKT at Reifen 2016 will be located in Hall 3.0 at Stand 3B40.