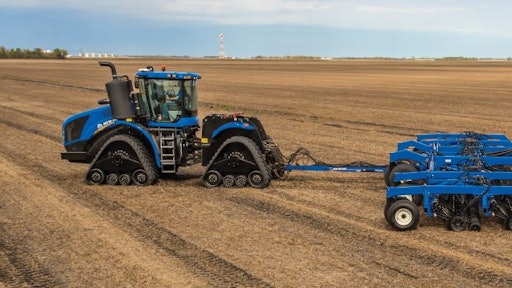 New Holland has expanded the SmartTrax offering for model year 2017 T9 Series tractors with the SmartTrax II Standard Track and Deep Traction Lug options and new belt traction lug.
"We heard from a number of customers who were searching for a similar solution at a lower acquisition cost, and we listened," says Dan Valen, Cash Crop Marketing Segment Lead at New Holland. "The new Standard design offers a cost-effective alternative to the premium Hi-Idler, featuring the same benefits with the exception of the aggressive approach angle."
Both the Hi-Idler and Standard modules are available with Agricultural lug tread or new Deep lug tread for added traction on the T9.600, T9.645 and T9.700 vehicles. The Agricultural lug tread has a tread height of 2 in., while the Deep Lug tread height is 2.6 in., making it ideal for very wet conditions or in loose or softer soils where traction is difficult to achieve. Both track belts are designed with a 153.3 mm (6 in.) tread spacing, which improves traction in wet or soft ground conditions and optimizes tread cleanout in muddy or sticky field conditions.
The new belt traction lug, available on both Hi-Idler or Standard designs, features a redesigned front idler of the track system, which increase the life of the traction lugs up to 40%.
All SmartTrax II models offer a standard 36-in. wide track, which provides 2,800 sq. in. of ground contact per module, for a total footprint of 11,200 sq. in. Traction is maximized for heavy tillage equipment and large planters and when operating in wet or marginal conditions. The large footprint increases flotation, reduceing soil compaction and damage, which leads to increased soil fertility and water drainage.
Overall benefits of the SmartTrax system include:
Full Power Turns
Articulated steering maximizes the ability of all four tracks to remain on the ground at all time, not just in a straight line. This enables the torque to be equally transferred during the turn, reducing both loss of traction and soil disturbance.
Superior Ground Contact
Thanks to the oscillating track modular design, uneven terrain is no match for the T9 Series SmartTrax II. The tracks will simply follow the contour of the ground to ensure that the operator maximizes traction and reduces potential slip. This also increases flotation and reduces compaction to maximize soil fertility and water drainage.
Positive, Efficient Drive
SmartTrax II features the largest drive wheel in the industry. It is a 100% direct drive system — no friction elements that can slip under very wet conditions.
Maximum Performance
With eight drive lugs engaged at all times, the load per lug is reduced for extended durability. An integrated scraper helps reduce soil buildup between the drive and belt lugs to maintain alignment and drive lug engagement.
All T9 Series SmartTrax II ranges come equipped with additional Camoplast 5500 Series 36 in. track belt, engineered for use in tough conditions, in the industry-exclusive Hi-Idler design option or new Standard design. The 5500 Series tracks are the right choice for operating on side hills and abrasive underfoot conditions. Camoplast 5500 tracks feature an improved carcass construction that greatly reduces damage reaching the main cables. By reducing the damage that reaches the main cables, track life is improved and overall cost of operation is decreased.
Companies in this article