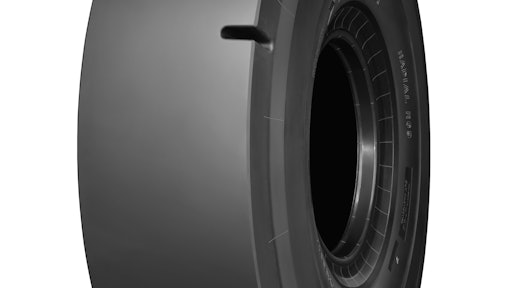 Yokohama Tire Corporation's (YTC) booth #7371 at MINExpo in Las Vegas, September 26-28, will be a goldmine for a wide range of off-the-road (OTR) tire offerings. YTC will feature nine OTR tires, including the all-new R69 L5-S; three new tread patterns in its Y67 line-up; and the RL47 prototype, a 57-in. radial. In addition, Yokohama will launch its Y Trax, a new tire data tracking software. The tire manufacturer will also have three commercial tires on display.
"MINExpo is the largest mining show in the world and is the best place to display our OTR tire line to our customers," says Tim Easter, YTC Director of Off-the-Road Sales. "It only comes around every four years and attracts more than 50,000 top-notch industry attendees."
Among the highlights at Yokohama's booth:
OTR tires
The all-new R69 L5-S, a 25-inch radial for loaders in underground mine applications
The new Y67, a 15-in. bias tire in 24-, 32- and 36-ply for underground mining applications, and which is created for the smaller, low-seam category. There will also be a 20-in. Y67 on display.
The Y69U, a 25-in. bias tire for underground mining
The RB42, a 49-in. radial for dump trucks
The RB42, a 51-in. radial for dump trucks
The RL47, a 57-in. radial prototype tire for dump trucks
Commercial tires
The 108R, a new SmartWay-verified regional all-position/steer tire
The MY507, an all-position tire for on-and-off highway logging, cement and construction operations.
The LY053, an on- and off-highway drive-axle radial for use in logging and construction, as well as rock and quarry operations.
Y Trax Tracking Software
Learn how to track tire performance in any environment for a more efficient operation through this new software. Demonstration will be available to show how it collects and analyzes data to save on operational costs. Y Trax can calculate per-mile and treadlife costs, as well as predict wear and replacement demands. Additionally, it builds a photo history of each tire's performance, monitors tire-related downtime and eliminates manual record-keeping.
"Score to Win" Competition
MINExpo attendees who stop by the booth can compete on a customized interactive soccer game for a chance to win a 2016/17 Chelsea FC Jersey.

Yokohama Tire

is the official shirt partner of Chelsea FC.