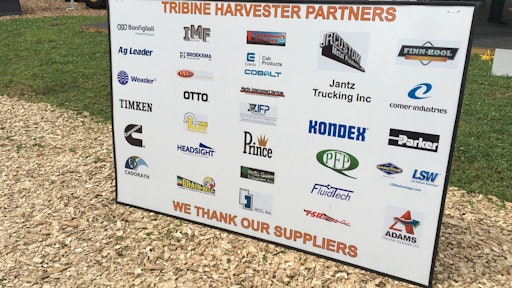 Improving productivity seemed to be the theme once again at this year's Farm Progress Show, in Boone, IA. New products from OEMs and component suppliers focused on helping farmers get into the field sooner and making it easier to get more work out of their machines.
Among the highlights at the show was Case IH's autonomous tractor concept. The cabless machine is based on the company's Magnum tractor chassis and was designed in partnership by Case IH, CNH Industrial's Innovation Group and Autonomous Solutions Inc. (ASI).
Read about work ASI had done as a supplier of autonomous vehicle systems in the article "Technology advancements bring autonomy further into reality."
The fully autonomous tractor uses a combination of radar, LiDAR and camera systems to detect obstacles in the tractors path, both stationary and moving objects such as people, and automatically stops the machine; an alert is sent to the operator who can then direct the tractor on a new path or tell it to keep going if the detected object is not in fact going to hinder its maneuverability.
Sister company New Holland Agriculture also unveiled a concept autonomous tractor during the show. The New Holland NHDrive autonomous tractor is the company's standard T8 tractor with an autonomous kit added to it. By affixing the kit to one of its standard tractors, New Holland says it provides customers with the flexibility to choose when they want to use autonomous operation. This is also why the cab is still included on the tractor, unlike the Case IH version. Dan Halliday, Global PLM Product Manager at New Holland, says the company chose to use its T8 model because it's a typical tractor used for typical farming operations; however, the kit can be added to any of the company's vehicles.
Two GPS antennas are included on the tractor so the system instantly knows where the tractor is at all times, whereas with a single antenna detection of the vehicle occurs only once the tractor starts moving, says Halliday. Wi-Fi antennas on the tractor send and receive data to the cloud so it can be accessed from anywhere by the operator.
The New Holland tractor also uses radar, LiDAR and cameras to detect obstacles in its path. Similar to the Case IH autonomous tractor, operators can monitor the vehicle, and control it when necessary, via a tablet or a computer from a remote location.
Watch a video of the New Holland Case IH autonomous tractors working in tandem.
New Holland collaborated with parent company CNH Industrial's Innovation Group and ASI, as well to develop the autonomous vehicle. As with other industries utilizing autonomous operation, such as mining, the need to extend working hours and better use labor has been a driver for CNH Industrial and its brands to develop autonomous vehicles. Many precision technologies exist in the agricultural sector, and autonomy helps take those even further to improve efficiency and productivity for farmers.
Tribine was another OEM which drew large crowds to its exhibit stand with its new Tribine Harvester. The harvester—the concept for which company President Ben Dillon has been working on for 20 years—is designed to improve harvesting time for farmers. It features two Cummins engines, one dedicated to the threshing and cleaning system and the other engine to the hydraulics system.
A key feature of the harvester is its 1,000-bushel grain tank. Greg Terjesen, Vice President Sales & Marketing at Tribine, says competitive machines have a 330-350 bushel tank, requiring them to be emptied more often which is inefficient. Typically a semi-truck follows alongside harvesters in the field so they can empty directly into the truck. However, Terjesen notes this causes additional ground compaction to the field. He says 1,000 bushels is the amount of grain a semi holds, which is why the company chose that amount; the Tribine Harvester is able to work continuously in the field until its tank is full, then drive directly to an awaiting truck to empty its load which Terjesen says takes less than 2 minutes to accomplish.
Low flotation tires are included on the harvester to minimize soil compaction as much as possible. In the operator cab, the steering wheel has been replaced with joysticks controls. Terjesen says this was a request from customers, and believes it will start becoming more prevalent in agriculture, as it has in the construction industry, particularly as younger farmers start to enter the fields due to their association with them from video games. Removal of the steering wheel also allowed Tribine to put a glass panel along the floor of the operator cab so drivers can see the ground below.
New machines at the AGCO stand this year included the Challenger 1000 Series tractor, a fixed-frame tractor aimed at providing farmers with a single machine for year-round operation. The tractor features a small-frame, articulated four-wheel drive combined with the speed and flexibility of a lighter-weight tractor, enabling it to be used for both heavy draft and row crop work.
AGCO also introduced its 5700 and 6700 Global Series tractors which have a common platform and modular design. Commonality between the machines allows the company to simplify part inventory, helping lower costs and ensure reliability because the parts have been tested and proven in other applications.
Increasing maneuverability
To aid agricultural equipment's movements through the field, several tire and track suppliers introduced new products. Titan, for example, launched its Goodyear OPTITRACK LSW1400/30R46, said to be the largest agricultural tire in the world.
The new tire measures 83 in. (convert) tall and is about 53-54 in. (covert) wide, and is designed to replace the use of duals on large four-wheel drive tractors. According to Scott Sloan, Agricultural Product Manager for Titan and Goodyear Farm Tires, duals can cause rutting issues in the field due to dirt being pushed up between to the gap of space between the two tires as the machine moves through the field. With the LSW1400, however, this is eliminated. And the Low Sidewall Technology (LSW) helps reduce soil compaction through its ability to carry 40% higher loads at the same inflation pressure as standard tires, or carry same load at 40% lower inflation pressures.
As farmers have seen the benefits of Titan's LSW tires, customers and dealers have started requesting them more from OEMs. Because of this, Titan also announced at the show that OEMs such as John Deere, Case and New Holland are now offering the LSW tires as options on some of their equipment models.
Michelin also announced at the show two of its Axiobib tires—including an Increased Flexion designed to reduce soil compaction like the LSW tire—will be an OEM option on AGCO's new Challenger 1000 Series tractor.
Tracks, which have been gaining in popularity over the past 20 years, could also be seen at various stands around the show. Camso displayed its new roading track, as well as its Conversion Track System (CTS). The roading track was developed from customer requests for a track which could improve road mobility. Eric Blondeau, Business Line Executive Director, Tracks – Agriculture, says the new tracks provide a lower cost per hour for customers, about 30-40% less than competitive tracks, by enabling farmers to more easily move from field to field. He notes that it's what's inside the track that counts; the Camso roading track features cable lined up within the track to take the tension of the operation and eliminate movement of the cables and extend the track's lifespan. Alternative track offerings are typically made through a molded process, he says, which can cause the cables to not be as straight and therefore not as sturdy.
Camso technology was also featured on the New Holland SmartTrax II upgrades introduced at Farm Progress. SmartTrax was developed in-house by New Holland, and features Camso belts; it includes a high idler placed at an angle to enable better mobility, particularly for climbing over rough terrain. The company introduced a standard module of the SmartTrax, as well, to provide customers with a lower-cost option. Dan Valen, Segment Marketing Leader, Cash Crop at New Holland, says the standard module can shave about $30,000 off the cost of the machine, but without sacrificing performance. It offers tight turning capabilities and and can be installed on combines, as well as tractors, enabling farmers to get into wet fields sooner than with conventional tires.
Though the agricultural market is still in a downturn, and forecasted to be so for the next couple of years, the new products on display at this year's Farm Progress Show show OEMs and suppliers are still focused on helping farmers be as productive as possible.