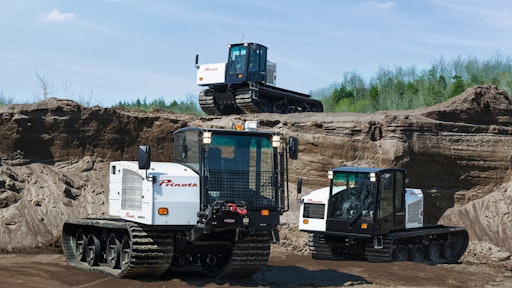 PRINOTH, the world's leading manufacturer of tracked vehicles, announces it will be exhibiting at this year's MINExpo International in Las Vegas, September 26-28 where it will present a PANTHER T12 tracked utility vehicle with its unique undercarriage solution designed for mining exploration activities.
Unique undercarriage solution
The PANTHER crawler carrier series is comprised of the T6, T8, T12, T14R, T16, and T22 vehicles but PRINOTH also offers a unique undercarriage-only solution. "This is truly an exciting idea for the mining industry because you can purchase the undercarriage and mount any drill or exploration device on it and control it remotely," explains Doug Little, Director of Tracked Utility Vehicles Sales at PRINOTH. Undoubtedly an interesting option for companies wishing to explore hard-to-reach terrain with minimum staff while reducing costs.
T12: a performing crawler
The PRINOTH booth will showcase the PANTHER T12 mounted with an exploration core drill by Usinage Marcotte. With a ground pressure of 5.91 psi, a payload of 25,000 lbs., a maximum speed of 10 km/h (6.2 mp/h) and powered by Tier 4 compliant Caterpillar engine C7.1, the T12 can be equipped with a wide variety of implements from drills to dump box. PRINOTH's unique chassis design allows for quick and simple implement installation and change at virtually no cost.
Soft thread
PANTHER tracked utility vehicles, also known as crawler carriers, are the perfect low ground pressure solution for hard to reach or sensitive terrain. PRINOTH's tracked carriers have a very minimal impact on the ground with a pressure of as low as 4 psi. As comparison, a normal-sized human being has 10 psi and no wheeled-vehicle comes close to these values, making the PANTHER units the best solution for harsh environments.

All terrain reliability
While carrying the biggest payload in the industry, ranging from 5,420 kg (12,000 lbs.) to 20,865 kg (46,000 lbs.), the PRINOTH PANTHER can reach work sites in any terrain: rocks, steep hills, swamps or even deep mud. The overall design allows the PANTHER to reach fording depths of up to 1,397 mm (55 in.). Proudly equipped with rubber tracks on four of its six models, the PANTHER vehicles' design follows in a long tradition of utility and access to hard-to-reach environments. Furthermore, their exclusive large wheel tandem undercarriages provide unparalleled off-road mobility and comfort.
Customizable by design
PRINOTH's engineering team chose a different path to achieve optimum customization. In fact, they opted to make the PANTHER vehicles as versatile as possible, enabling them to practically and effortlessly adapt to other products' specific requirements. As such, the PANTHER was designed with standardized truck-style chassis, a safety feature preventing transmission engagement and break release when an implement is in function, a large deck space to which allows for better implement stability and power to an attached-equipment through the vehicle's auxiliary pump drive (P.T.O.). Overall, built-in versatility to suit every customer's needs.