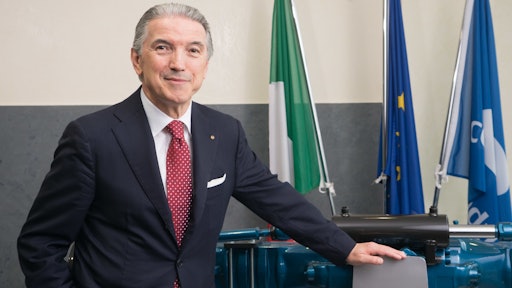 Comer Industries has received the 2016 Andrea Pininfarina Companies for Innovation Award and was one of nine firms to be recognized with the "Premio dei Premi" prize, established by the Prime Minister's office as part of Italy's National Innovation Day.
Fabio and Fabrizio Storchi, CEO and Managing Director of Comer Industries, attended the ceremony at the Quirinal Palace in Rome, upon invitation by Italian President Sergio Mattarella.
The prize was awarded to companies that excelled in maintaining and increasing their competitive advantage through innovation.
Comer Industries was chosen "for having promoted Italian excellence worldwide as an industry leader, winning several international awards."
The Reggio Emilia company has developed and added value through innovation across the business since 1970, establishing itself as a world leader in the design and production of advanced engineering systems and mechatronic solutions for power transmission.
Comer Industries continues to innovate and evolve through a business model based on the EFQM (European Foundation for Quality Management) principles adopted by standout companies. At the heart of this innovation is the people at Comer Industries and their ability to work together, integrate and share their various experiences and skills.
"Over the years, we have focused on innovation and striving for excellence as a driver of development and continual growth. Working together and sharing experiences have always been the guiding principles of Comer Industries. We are a community who create, innovate and develop ideas in order to achieve excellent results," explains Fabio Storchi. "None of our success would have been possible without the involvement of our people and their ability to design, invent and build a better company."