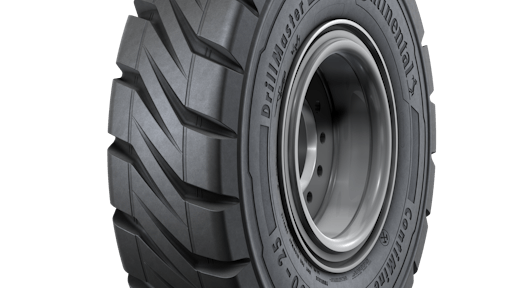 Continental launched four new mining tires at the 2016 MINExpo show.
The new tires - Continental UndergroundMaster, DrillMaster, DumperMaster, and ScoopMaster - are the latest addition to Continental's portfolio of specialty tires. "The tires were specifically designed for the extreme conditions our customers are facing in the underground mining sector," says Christian Luther, Product Line Manager Earthmover Tires at Continental.
With the introduction of the new mining tires, Continental Commercial Specialty Tires (CST) follows the customized solution approach. This means, every tire line was developed for an individual vehicle type and therefore takes into consideration the requirements of each machine. That's why Continental chooses different tire construction types to address the specific demands of the applications. Some products are coming with the proven V.ply design with high carcass strength and robustness, while other tires offer a full steel radial construction that delivers outstanding load capability even on longer transport distances in underground mines.
"The new tires perfectly fit our expansion strategy for the future, as we will continue to expand and optimize our product and service portfolio for the mining industry in the upcoming years," says Luther. Continental underlines its strategy to be a solutions provider by demonstrating the ContiPressureCheck system as well as the upcoming technology around ContiFlexBox, which enhances efficiency in customer operations.
Continental UndergroundMaster for Shuttle Cars and Face Haulers
The Continental UndergroundMaster is designed for vehicles used in room-and-pillar applications such as shuttle cars, scoops and face haulers for extracting and transporting minerals. These vehicles are mainly used in soft rock applications where loose underfoot conditions require tires with outstanding traction and durability. Continental's unique V.ply technology offers extremely high carcass strength. The reverse outer block direction of the tire pattern improves lateral stability and driving accuracy, ensuring safe cornering even on loose soil.
Continental DrillMaster for Drill Rigs, Scalers and Bolters
With its V.ply construction, the Continental DrillMaster is ideal for drill rigs, scalers, bolters and other service vehicles demanding a highly cut-resistant carcass to protect the tire from freshly blasted rocks. High cut resistance, good traction, and stability are essential for tires used in such applications. The tire carcass of the Continental DrillMaster is designed to stand heavy loads, while the zigzag tread design offers a maximum amount of gripping edges in all directions to manage steep inclines and tight cornering safely.
Continental DumperMaster for Mining Trucks
The Continental DumperMaster is designed for mine trucks, which are mainly used for transporting ore to a conveyor belt or directly to the surface of underground mines. The all-steel radial carcass equates to a low heat build-up. The up to four star rating carcass design allows extremely high load-carrying capacity that increases efficiency in material hauling. The tread pattern ensures high self-cleaning ability and good traction in muddy and loose ground conditions.
Continental ScoopMaster for Loaders and Scoops
Continental's ScoopMaster was developed for loaders and scoops operating in the extremely harsh underground mining environment. Premium quality tread and sidewall rubber compounds provide maximum resistance to rock cutting, penetrations, and tearing. The special V.ply construction, in combination with the carcass rubber compound, provides high carcass strength, excellent flex fatigue, and sidewall damage resistance. The extra deep L5S tread design offers additional carcass protection and high wear volume for good mileage performance.
Initially, the ContiMine range comprises 28 tires, which will be launched subsequently until the end of 2017. In the meantime, additional customer requirements will be evaluated which may lead to a further portfolio extension.