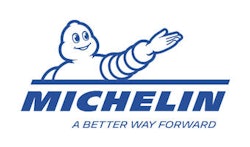 Michelin Tweel Technologies, manufacturer of the award-winning MICHELIN X TWEEL airless radial tire, announces it will expand the reach of its airless skid steer tires with the launch of a new size — 10N16.5 X TWEEL SSL All Terrain. The revolutionary tire-wheel assembly, originally introduced 4 years ago, offers a solution to the seemingly unavoidable challenge of chronic flat tires that plague the millions of skid steer loaders and zero-turn radius mowers utilized by many commercial operations.
Jack Olney, Director of Sales for Michelin Tweel Technologies, will discuss the new product in detail at 5:30–5:50 p.m. on Wednesday, Oct. 19, in Booth 2036 (B Wing) during the Green Industry & Equipment (GIE) Expo at the Kentucky Expo Center in Louisville.
The new 10N16.5 product will be a viable option for those skid steer machines that require the smaller 10-in. dimension. Combined with the 12-in. product, Michelin Tweel Technologies now offers sizes that support the vast majority of skid steer machines on the market today. With the all-terrain tread pattern, designed for use on a wide range of surfaces, the 10N16.5 will serve users in a variety of industries, such as rental fleets, construction and agriculture.
"Responding to customer requests, we developed our newest version of the MICHELIN X TWEEL SSL to give owners and operators of smaller skid steer loader machines the opportunity to experience all of the advantages of the TWEEL Airless Radial Tire, including reduced downtime due to flats, increased operator comfort and improved productivity," says Olivier Brauen, head of Michelin Tweel Technologies. "We are pleased to broaden our offer to provide this innovative mobility solution to more customers."
The 10N16.5 has a 31/32-in. tread depth with a 10/32-in. undertread for ease of retreading. The 177 lb. tire can support a 3,700-lb. maximum load per tire.
The development of Michelin's Tweel technology is significant since many skid steer loaders equipped with traditional pneumatic tires can experience frequent flat tires. As a solution to reduce flat-tire downtime, many users resort to using foam-filled, solid tires or other alternatives that diminish traction, handling and ride comfort. The TWEEL Airless Radial Tire offers the advantages of no maintenance, no compromise and no downtime since it requires no air, thereby eliminating the risk of a "flat tire." The X TWEEL SSL also delivers the advantages of easy mounting, damage resistance, reduced operator fatigue and longer wear life than pneumatic tires.