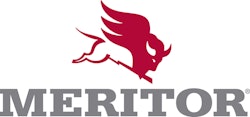 Meritor Inc. announces it has been selected to equip Mack Defense's new heavy-duty dump trucks for the United States Army with a comprehensive drivetrain solution including its MX810 front drive steer axle, transfer case, ProTec Series 50 tridem drive beam axles and Permalube RPL Series drivelines. The Mack Granite armored and armor-capable dump trucks are scheduled to be delivered to the U.S. Army Corps of Engineers through 2025. 
"With this solution, Mack and Meritor have taken steps to ensure that our soldiers can execute their missions with confidence," says David Damian, Director, Defense for Meritor. "Our axles and related components are widely applicable to multiple military applications."
Meritor's complete drivetrain solution for the Mack dump truck includes:
MX810 front axle with weight rating up to 24,000 lbs. offers maneuverability and excellent ground clearance
MTC-3220FV high-torque transfer case is compact and rugged for ease of maintenance and serviceability while remaining durable enough for the demands of military applications
ProTec Series 50 beam axles, engineered to military specifications with gross axle weight rating (GAWR) up to 30,000 lbs. per axle
Permalube RPL Series drivelines, designed for gear-fast/run-slow drivetrains and high-torque applications that are permanently lubricated and sealed for life to reduce maintenance compared to conventional drivelines
"Our drivetrain solution for this vehicle meets military requirements for performance, mobility, durability and weight-efficiency," Damian says. "These proven technologies are available to defense organizations and companies that develop and supply armored tactical and combat vehicles or platforms in multiple configurations."  
Companies in this article