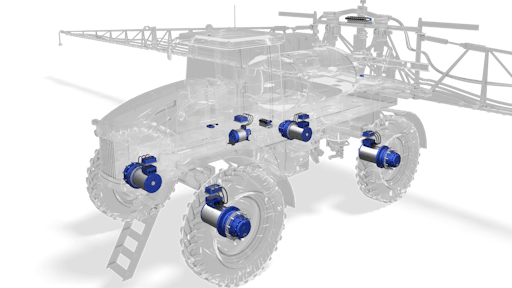 During the 2019 edition of Agritechnica, Dana Inc. exhibited several drivetrain technology advancements for use in agricultural equipment.
This included the unveiling of new e-Mobility technologies designed to improve the performance of drive and work functions for field sprayers and telehandlers. A key focus was demonstrating how these solutions are modularly designed to ease installation of hybrid and electric drivetrain components into current vehicle architectures.
"From telehandlers that accomplish a variety of work functions to sprayers that perform a single task continuously over several hours, the diversity of duty cycles across applications presents engineering challenges for agriculture equipment manufacturers on the path to electrification," says Aziz Aghili, President of Dana Off-Highway Drive and Motion Technologies. "Dana has the expertise and expanding product line to support agriculture manufacturers with technologies for diesel-, hybrid-, and electric-powered vehicles."
Electric drivetrain components for telehandlers and sprayers
Dana offers several electric drivetrain solutions. Its Spicer Electrified e-Axles, for instance, is designed for telehandlers with load capacities up to 3,000 kg (6,600 lbs.). The e-Axles leverage the company's lineup of motors, inverters, and controls to provide electrified propulsion within established vehicle architectures.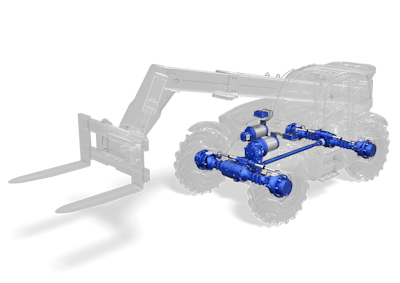 Dana has also developed the Spicer Electrified e-Gearbox, which features a compact design that manages high input speeds, provides superior power density, improves mechanical efficiency, and offers a precision-engineered interface for connecting high-performance motors.
Dana leverages vehicle data to improve performance and reduce total cost of ownership through its Spicer Smart Suite Intelligent Load Monitoring System (ILMS). Spicer Smart Suite ILMS uses patented and proprietary data-harvesting technologies across the vehicle to prevent tip-over incidents, supply intelligent calibration management, and estimate axle attitude. It is designed to alert the operator of potential tipping situations, reduce the risk of vehicle breakdowns, improve productivity, and enhance the long-term serviceability of drive systems.
Additionally, Dana supports the electrification of telehandler work functions with low-voltage motors, power electronics, control systems, and Brevini pumps.
Dana also offers a full range of Spicer Torque-Hub wheel drives for sprayers that provides 11,000-26,000 N-m (8,100 -19,000 lb.-ft.) of drive torque. They have a compact design with a steerable four-wheel-drive configuration delivering exceptional maneuverability while minimizing crop damage. Spicer Torque-Hub wheel drives can be easily integrated with central tire inflation systems (CTIS).
Engineers have combined Spicer Torque-Hub technology with high-performance electric motors from the Dana portfolio to deliver an electric drive system for field sprayers with superior efficiency.
Additionally, Dana offers Brevini-brand pumps, hydraulic integrated circuits, sensors, and electronic controls to optimize the performance of sprayer work functions.
New axle design for large tractors
Over the past 3 years Dana has been working working with Fendt, a brand of AGCO, to co-develop the Spicer 980 independent suspended axles for the new Fendt 900 Vario series of large tractors. The companies also announced during Agritechnica they were expanding their joint engineering agreement.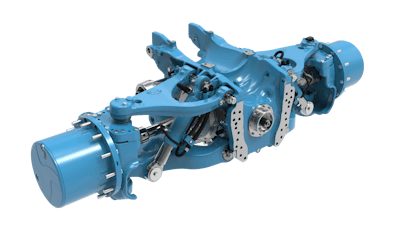 The five new Fendt 900 Vario tractors range in power from 296-415 hp (218-305 kW). They offer upgrades in fuel efficiency, uptime, and agronomic benefits through features such as the Fendt tractor management system (TMS) and Fendt stepless VarioDrive continuously variable transmission (CVT).
The Fendt 942 Vario featuring the Spicer 980 was named "Tractor of the Year 2020" during the show for its many innovative features. Read more about the Fendt 942 Vario and other winners of the Tractor of the Year awards.
"Dana has long served as our trusted collaborator in developing advanced drive technologies for Fendt tractors, and we anticipate continued success as we extend our relationship with the new series of Fendt 900 Vario tractors," says Peter-Josef Paffen, Vice President, brand head Fendt EME.
"We look forward to working with AGCO to further improve the class-leading features, capabilities, and comfort of the next generation of Fendt tractors," adds Dana's Aghili.
The Spicer 980 axle features an independent front suspension, which provides isolation from body vibration. With approximately 20 cm (8 in.) of vertical movement, the axle provides stable ground contact and traction on uneven field terrain. The configuration provides improved vehicle control, operator comfort, traction, and handling characteristics for safer operation, especially at on-road speeds.
Additionally, the Spicer 980 axle is designed to support Fendt's proprietary tire inflation system.